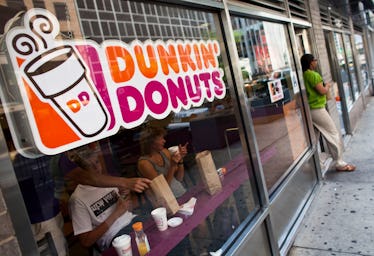 Here's When Dunkin' Donuts Will Be Open On Thanksgiving For All Of Your Coffee Needs
Ramin Talaie/Getty Images News/Getty Images
The phrase "America Runs on Dunkin'" is no joke. Dunkin' Donuts reports that it serves more than three million customers on a daily basis. If you are one of these people that relies on coffee and doughnuts to get you powered up for the day, you might be wondering, "Will Dunkin' Donuts be open on Thanksgiving 2018?" Turkey aside, many of us rely on Dunkin' Donuts for a daily cup of caffeine (the doughnuts are a bonus). It can be tricky to know what's opened and closed on a holiday. Here's what you need to know about Dunkin' Donuts stores on Thanksgiving.
Unfortunately, there is no one-size-fits-all answer to this question. Like you, I was curious whether or not Dunkin' Donuts is going to be open on Thanksgiving Day (Nov. 21) this year. I decided to reach out to the company for more information. A representative told me that Dunkin' Donuts' store hours will vary by location. That means you will have to do a little digging around before you head out to Dunkin' Donuts on Thanksgiving Day. It won't take too much of your time, though.
First, I recommend finding your nearest Dunkin' Donuts store. Once you've located the one closest to your home, give the store a call. An employee will be able to tell you what that specific store's hours are on Thanksgiving. If you are a planner, feel free to give Dunkin' Donuts a call prior to Thanksgiving (or inquire on your next trip). You can also wait until Thanksgiving Day to ring up your local store.
Now, there is a chance that your favorite Dunkin' Donuts location may be closed on Thanksgiving, too. It really just depends on the individual store itself. You can also use the Dunkin' Donuts mobile app to find out more about which locations will be open, as well as the hours of operation.
Most Dunkin' Donuts locations don't open at the same time. Some locations may open at 4 a.m., while other stores open up shop at 5 a.m. or later. The same can be said for the closing hours. For example, the three closest Dunkin' Donuts to where I reside all regularly close at a variety of times including 7 p.m., 9 p.m., and 11 p.m. Keeping that in mind, it may be a good idea to check with all of the Dunkin' Donuts locations that are within a reasonable driving distance of your home to check their Thanksgiving hours.
Whatever the case, make sure to be extra nice to the employees working on Thanksgiving Day. I know you are always nice to your barista, but it never hurts to get a reminder. As someone who has worked on holidays before, I know that a little extra gratitude and patience can go a long way.
Oh, and if you're headed out to Dunkin' Donuts on Turkey Day, make sure you offer to pick up coffee and doughnuts for your Thanksgiving crew (especially the cook). Thanks to Dunkin', Thanksgiving breakfast is served.