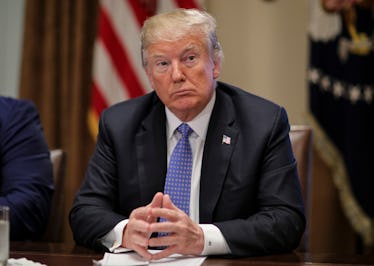 This Is Why You Might Not See Donald Trump At John McCain's Funeral
Pool/Getty Images News/Getty Images
Funeral preparations are now underway for Arizona Senator John McCain, who died on Saturday, Aug. 25 after battling an aggressive form of brain cancer for over a year. With former President Barack Obama and President George W. Bush already slated to attend the event and give eulogies, many are wondering: will Donald Trump attend John McCain's funeral? Keeping in mind the contentious relationship between McCain and Trump — and past presidents' funeral attendance — here's why you're not likely to see Trump at the senator's funeral service. Elite Daily reached out to the White House and first lady Melania Trump's spokesperson for comment on whether President Trump and first lady Melania Trump will attend funeral services but didn't hear back at the time of publication.
According to The New York Times, McCain will lie in state at the Arizona Capitol Rotunda (this would only be the 13th time that a senator has been given this honor) before a full dress funeral service at Washington National Cathedral. He will then be buried at the U.S. Naval Academy Cemetery in Annapolis, Maryland, per his website.
While an official schedule with dates has yet to be finalized, the publication reports via two Republican sources that former presidents Barack Obama and George W. Bush have reportedly already expressed a desire to speak at the ceremony, echoing the wishes of the Arizona senator before his death, according to CBS News. While the last two commanders in chief will be reportedly paying their respects at the service, McCain reportedly requested that the current POTUS not attend his funeral when he made preparations months in advance. Instead, Vice President Mike Pence is expected to go in his stead. Elite Daily reached out to the White House for comment on whether Vice President Pence and second lady Karen Pence will attend McCain's funeral but did not hear back at the time of publication.
It's no secret that the two Republican stalwarts — McCain and Trump — were not on the best terms before McCain's death. Trump memorably criticized the former prisoner of war's wartime record during a campaign rally in Iowa in July 2015, before referring to him as a "loser" because McCain lost the 2008 presidential election to President Obama, per The New York Times.
"He's not a war hero," Trump claimed during the Iowa rally, brushing away the senator's record of over five years of torture as a prisoner of war during the Vietnam War. He continued, "He's a war hero because he was captured. I like people that weren't captured."
Since then, McCain's reputation as a "maverick" for his willingness to stand up to his own party members and work through bipartisan issues has rubbed President Trump the wrong way, and the pair were often engaged in a war of words during Trump's term. After the senator's decision to vote "no" on the repeal of the Affordable Care Act, the president spoke at a CPAC in February 2018, and he even urged people to boo the senator after citing him as the reason that Obamacare was still in place.
While POTUS took to Twitter to share his condolences shortly after news broke of McCain's passing on Aug. 25, many noted that he didn't laud the late senator's wartime record or 60-year-long civil service career, instead focusing on his sympathies for the McCain family.
On Sunday, Aug. 26, President Trump was spotted at one of his golf courses in Sterling, Virginia less than 24 hours after the announcement of McCain's death, which drew a large group of protestors and spectators to the spot.
Trump previously drew ire back in April 2018 when he opted not to attend former first lady Barbara Bush's funeral, per The Washington Post. According to CNN, a White House statement at the time cited security concerns and potential disruptions as the reasons for his absence. Even though there was some backlash at Trump's absence, it is not uncommon for sitting presidents forgo attendance to former first ladies' funerals, per CBS News. Back in April, first lady Melania Trump attended the proceedings in his stead. She was joined by President George H. W. Bush, President George W. Bush, as well as Presidents Barack Obama and Bill Clinton. Former first ladies Michelle Obama, Laura Bush, and Hillary Clinton also made an appearance.
Sitting presidents don't appear to have an official mandate to attend high-profile funeral services, so a McCain funeral service sans President Trump wouldn't be surprising. Either way, there will be no shortage of people who were close to the "maverick" senator in attendance at his funeral.