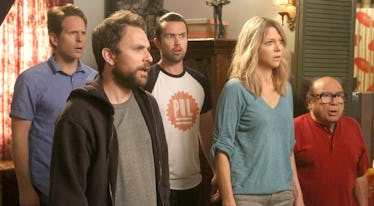 One Of The Main Characters On 'Always Sunny In Philadelphia' Might Be Off The Show
FXX
The gang might be losing one of its core members. Last year, Always Sunny in Philadelphia ended Season 12 with a major cliffhanger, as Dennis Reynolds declared that he was leaving Paddy's Pub for good to raise his newly revealed son in North Dakota. Since then, there has been tons of speculation among fans: Will Dennis return for Always Sunny Season 13 or not? Unfortunately, the man who plays Dennis isn't offering fans much hope for his character's return.
For twelve seasons, Dennis Reynolds has been one of the main characters of Always Sunny in Philadelphia, along with his sister Dee, father Frank, and best friends Mac and Charlie. But all of that could change in Season 13, after the Season 12 finale ended with the revelation that Dennis has a son in North Dakota and he decides to leave Philadelphia to go be a father.
Over the weekend, Glenn Howerton's costar Kaitlin Olson gave Always Sunny fans hope that Dennis would be back for part of Season 13, telling TheWrap that the character would return for some episodes of the new season:
I do know that Glenn Howerton is coming back for some episodes. I don't know the specifics, but I do know how he's being introduced back in, and it is absolutely hilarious.
However, Glenn Howerton denied Kaitlin Olson's claim about Dennis returning. Howerton got into character as Dennis (perhaps one last time?) and took to Twitter to say that "some bird" (the animal that Dennis constantly compares Olson's character of Dee to) doesn't know what she is saying. He wrote that Dennis is still not confirmed to appear on Season 13.
Glenn Howerton has been adamant about dispelling rumors that Dennis will return for Season 13 of It's Always Sunny in Philadelphia for months. In January, he posted a thread on Twitter explaining that the show's writing staff is taking Dennis' decision to leave Paddy's Pub very seriously, and he could very well be gone forever. Howerton also clarified that his other new project — the NBC sitcom A.P. Bio — is not the reason for Dennis' possible exit from Always Sunny, writing that they are two totally different projects. Plus, although Dennis' future on Always Sunny is in the air, Howerton is still a big part of the new season as a writer.
Check out Glenn Howerton's initial Twitter thread (from January) about Dennis' possible departure from Always Sunny below:
From Glenn Howerton's response to Kaitlin Olson, it sounds like not much has changed since he first posted about Season 13 a few months ago — it is possible that Dennis Reynolds may actually be gone for good.
Of course, Dennis not returning to Always Sunny would be a massive shift in the series, which is why fans are so anxious to find out what will happen with the character. Dennis has been the de facto protagonist of It's Always Sunny in Philadelphia for the entirety of the show's run. Although the sitcom features an ensemble main cast, Dennis has appointed himself the group's leader, and constantly reviews and either approves or denies the schemes that the Paddy's Pub gang will get into in each episode. It is hard to imagine what Always Sunny might look like with Dennis to boss everyone around.
Although Dennis might be gone, Always Sunny isn't going anywhere. FXX has already picked up a fourteenth season of the series to air after this upcoming season, and that renewal marks It's Always Sunny in Philadelphia as the longest-running live-action comedy series in the history of American television.