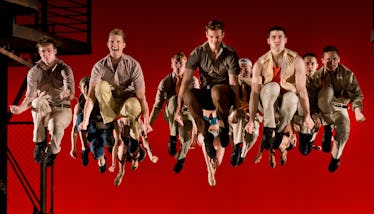 This Pop Star Is Rumored To Play Maria In The 'West Side Story' Remake & We're Screaming
Joerg Koch/Getty Images Entertainment/Getty Images
In case you haven't heard the news, Steven Spielberg is currently in the process of casting a remake of the iconic movie musical West Side Story. With such a big and beloved project, rumors are already flying about who could play the lead roles of Tony and Maria in an updated version of the musical, and there is one name that just keeps coming up. Pop star Camila Cabello is the star everyone seems to be saying will take on the part of Maria. So will Camila Cabello play Maria in West Side Story? Let's take a look at why fans are clamoring for this casting.
News of a major West Side Story remake landed just a couple of weeks ago, when a casting call began circulating online. The poster revealed that Steven Spielberg will be directing the new movie, which will be adapted by playwright Tony Kushner. It called for actors to audition for the lead roles of Tony, Maria, Anita, and Bernardo, underlining that white actors will be considered for Tony and Latinx actors for Maria, Anita, and Bernardo, keeping true to the original story. The other listed criteria are that actors should be between 15 and 25 years old and be able to sing and dance.
Right after that casting announcement went live, fans couldn't stop guessing who might be cast as Tony and Maria. The one name that keeps coming up is Camila Cabello, the Fifth Harmony breakout who has exploded onto the pop music scene this year as a solo act. Rumors really started picking up steam after Joseph Kahn, the man who directs all of Taylor Swift's music videos, dropped a pretty confident tweet that seemed to suggest he is sure Cabello will land the part.
After that, Twitter has been packed with fans talking about how much they want to see Camila Cabello play Maria in Spielberg's West Side Story remake. Check out some of the best responses below:
It seems like a definite possibility. After all, we know that Camila Cabello can sing and dance, plus she fits the age range that the casting directors are looking for. And although she is not Puerto Rican like Maria, the casting call says that they are casting a broader net and looking for Latina actresses for the role, which qualifies Cabello, who is Cuban-Mexican.
If she winds up auditioning and getting cast in the project, the West Side Story remake will mark Camila Cabello's first major acting job. She has focused on her solo music career since leaving girl group Fifth Harmony, and topped the charts with her ubiquitous single "Havana." But a foray into acting could definitely be Cabello's next step. After all, just a year before Cabello broke out from her pop group, the big story in the pop music world was One Direction breaking apart. Harry Styles went on to find success in his self-titled solo album, just like Cabello, and also surprised movie audiences by making his acting debut by starring in a huge film, Christopher Nolan's Dunkirk. Cabello may very well continue to follow in Styles' footsteps and make a splashy big-screen acting debut, and what could be more perfect for her than West Side Story?
Obviously, this new West Side Story remake is still in very early stages, so nobody is really sure of anything just yet. With Steven Spielberg and Tony Kushner just getting started in the casting process, we probably won't be actually seeing this movie for a long time now. Hopefully, the casting directors are noticing what everyone is saying on Twitter, and they give Camila Cabello a call.