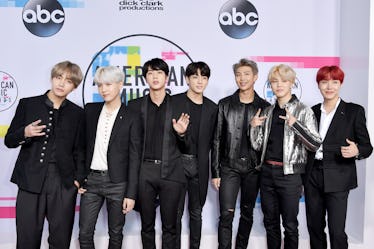 If You're Missing BTS, Here's The Award Show They'll Be Performing At Next
Neilson Barnard/Getty Images Entertainment/Getty Images
The Asia Artist Awards are fast approaching and lots of K-Pop fans are wondering one thing: Will BTS be at the Asia Artist Awards? Luckily for all you ARMY out there, your favorite band is definitely going to be there! Not only is the whole band going to be at the awards ceremony, but they're also performing!
Despite the fact that BTS has a wildly busy schedule over the next few months, they confirmed their attendance at the Asia Artist Awards back in October. The awards show will take place on Nov. 28 at the Namdong Gymnasium in Incheon, South Korea. So, it's literally right around the corner. As you can imagine, BTS fans are getting super excited about it.
It has yet to be announced which song (or, preferably, songs) they'll perform out of their current lineup of hits like "Idol," "Fake Love," "DNA," and "Airplane Pt. 2," but whichever ones they choose, I'm sure it's going to be amazing. In addition to BTS, K-Pop fans can expect to see fellow top K-pop acts at the Asia Artist Awards like Wanna One, Seventeen, and TWICE. A few other famous names are expected to attend as well including actor Lee Byung-Hun. The show will be hosted by Super Junior's Leeteuk and actress Lee Sung-Kyung. You can learn how to stream the ceremony (and what time to tune in) by clicking here!
According to KPop Love, the Asia Artist Awards plans to announce "a total of 20 artists and 20 actors who will attend the ceremony." They also reportedly have plans to designate the first floor of the Namdong Gymnasium as a standing section in an effort to create a festival-like vibe. So, it's going to be quite a night!
But, of course, BTS is definitely going to be the highlight of the evening! And for good reason. For one, this isn't their first rodeo at the Asia Artist Awards. They attended in 2016 and totally blew fans minds with their passionate performance of "Blood, Sweat, and Tears" and "Burning Up (Fire)." Check it out below!
Then they casually went ahead and won the Best Icon Award and The Best Artist (Music) Award. Basically, they're Asia Artist Award vets.
Another reason they'll be a main highlight of the night: This is a particularly exciting time for BTS. They've achieved unprecedented worldwide fame and now have their first film under their belts. And that first film, Burn the Stage, just broke a record that was previously set by One Direction. So, they're well on their way to legendary status!
According to Forbes, Burn The Stage: The Movie earned a whopping $2.4 million in the U.S. during its weekend debut. Its total North American revenue was $3.6 million. Forbes also reported that the film screened in 2,500 theaters globally and that brought in $14 million total. So, how many people make up numbers like that? 1.4 million admissions, according to Forbes. One Direction's 2014 documentary, One Direction: Where We Are totaled 1.2 million admissions.
So, BTS has beat out one of the world's most beloved bands by quite a lot! And that's not actually surprising because Burn the Stage was really hyped up and it seems like it lived up to the buzz that preceded its release. According to the Burn the Stage website, the film is an "unmissable cinema event" that "provides an intimate look at what happens when the most successful global boyband of all time breaks down barriers and invades the mainstream music scene." If Forbes' numbers are any indication, then it seems that Burn the Stage did exactly what it set out to do!
In any case, you can catch a glimpse of all that BTS magic at the Asia Artist Awards which are scheduled to air Nov. 28.