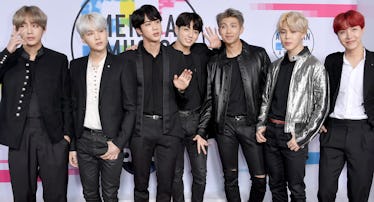 Here's How To Stream The 2018 Asia Artist Awards So You Don't Miss BTS' Epic Performance
Neilson Barnard/Getty Images Entertainment/Getty Images
Being an international BTS fan is no walk in the park. On top of having to keep up with the boys' hectic touring schedule like you would with any other artist, you have to do some serious research when it comes to making sure you're in the loop about their upcoming award show appearances. Trying to translate the announcements about their upcoming appearances in Google Translate while calculating what time you'll have to stay up until to catch them almost feels like homework, but it's an assignment you're willing to do to get an A++ in supporting BTS. Well, Jungkook, Jimin, V, RM, Suga, Jin, and J-Hope will be attending the Asia Artist Awards on Wednesday, Nov. 28th, and here's how to stream the 2018 Asia Artist Awards so you don't miss a thing!
The 2018 AAAs will take place on Nov. 28 at Namdong Gymnasium in Incheon, South Korea, where the red carpet will begin at 1 p.m. KST with the award show beginning at 5 p.m. KST. BTS won't be the only big-name K-Pop band at the event, obviously. Actually, Super Junior's Leeteuk is hosting the ceremony with South Korean actress and model Lee Sung Kyung.
So, how do you, a U.S.-based ARMY, tune in? Lucky for you, the show is going to stream live on V Live! Yes, this calls for a celebratory dance session.
You can watch the red carpet on V Live by clicking here and then you can stream the actual award show on V Live here.
But having the links to the award show's live stream is only the beginning. The key here is to make sure you're awake when everything kicks off.
If you're based on the east coast, South Korea is a whopping 14 hours ahead of you, which means the AAAs red carpet actually kicks off on Tuesday, Nov. 27 at 11 p.m. for you. So you'll have to stay up pretty late to catch the carpet. And that means the award show won't get going until 3 a.m. in the wee hours of Nov. 28th. Basically, you're going to have to make some hard choices if you really want to watch live.
Maybe you can start sleeping now and wake up refreshed at 11 p.m. to power through the whole event? Or perhaps you can go to sleep early, skip the red carpet, and wake up feeling refreshed at 3 a.m. to catch the actual ceremony? It's up to you!
But if you're based on the west coast, Korea is actually 17 hours ahead of you. Good news? That means you can totally catch the AAAs red carpet when it starts for you at 8 p.m. on Tuesday, Nov. 27. But the actual award show won't start until Wednesday, Nov. 28 at midnight. So still a bit of a dilemma there. I'll leave you to figure out how you'll pencil the festivities into your schedule.
But if BTS' performance of "Blood, Sweat, and Tears" and "Fire" at the 2016 AAAs is anything to go by, sacrificing a bit of sleep to catch this award show live is totally worth it! Check it out below and tell me if you disagree.
Yup, totally worth it.