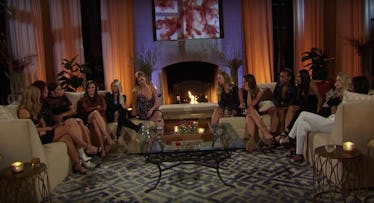 Here's The 'Bachelor' Contestant That Fans Want To See As The Next 'Bachelorette'
ABC
It's about that time in the Bachelor season where audiences start to size up the cast to figure out who might have a chance at a Bachelorette position. The hometown dates are around the corner, which means the final four ladies vying for Arie's heart are set, and we have to prepare to say goodbye to three of them over the course of the remaining episodes. One contestant Bachelor Nation bid adieu to last week was L.A. nanny Bekah Martinez. Will Bekah M. be the 2018 Bachelorette? The charming 22-year-old was a clear fan favorite.
Bekah was an endearing force to be reckoned with right off the bat. From the moment she stepped out of that cherry red Mustang convertible — as opposed to the expected, humdrum limo — it was obvious she had a hold on Arie... and the audience. That entrance was basically a metaphor for her whole vibe on the show to follow. Bekah was unexpectedly refreshing — she came off funny and engaging, while also keeping things pretty real. Sure, her age was a much-discussed topic throughout her stint. 22 is young. But most of the women competing are in their mid-20s (Maquel was 23, but nobody seemed to bat an eyelash full of mascara about it), and Bekah's chemistry with 36-year-old Arie was seemingly off-the-charts regardless of how many years she's been alive.
Now we're all left wondering if Bekah has a shot at being the next Bachelorette. The age thing might be a setback, but if she's truly ready to settle down then she could be a fabulous choice. Bekah would be the youngest leading lady to hand out roses on the series history — Ali Fedotowski was 25 when she took on the role, as was JoJo Fletcher.
We would admittedly tune in if Bekah got the job. She's definitely not boring on screen, she's adventurous, and she already has a built-in fanbase. Plus, she's probably made the majority of the headlines this season. We all wanted Peter Kraus to be the next Bachelor, and he actively admitted he might be uncomfortable with the idea of a proposal. Oh — Bekah's single at the moment, by the way.
The current final four Bach-testants, who are about to embark on the crucial hometown dates, are all solid candidates for Bachelorette 2018 bids. Tia has downhome southern charm with a silly side to boot. Becca K. seems like she could be your childhood BFF or something — her sense of humor and positive attitude are total pluses. Kendall's quirky and pleasant personality gives her an entertaining edge. Lauren B. does appear to be a total sweetheart, though she's a tougher nut to crack considering she doesn't open up easily.
Recent cast-off Seinne certainly won Bachelor Nation over — the impressive Yale grad would be a good candidate for Bachelorette status. As would Jacqueline, who was so honest about her feelings for Arie that she sent herself home. Of course, with the Bachelor Winter Games in full swing, producers could always go the route of plucking from that cast. If Bibiana (who left earlier in Arie's season) doesn't find love in Vermont, may we throw her hat in the ring?
Or maybe they'll bring an international contestant stateside if Winter Games makes an impact? That would be an interesting first.
While we wait for an official announcement, Bekah fans will also be holding out hope that the cool girl with the short hair will be our future Bachelorette. Are you listening, Bekah?
And even if the lovable Bekah doesn't end up landing the position, remember... there's always Bachelor in Paradise.