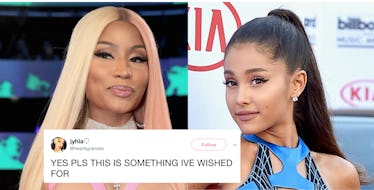 Nicki Minaj Asked If She Should "Do An Album" With Ariana Grande & Yes, Please
Christopher Polk/Getty Images Entertainment/Getty Images/David Becker/Getty Images Entertainment/Getty Images
When two superstars collaborate to create a hit song, it tends to get people talking. The highly-anticipated music video for "Bed" by Nicki Minaj featuring Ariana Grande dropped on Friday, July 6, and now fans want more music from the singers. It didn't take long for the idea of an entire collaborative album from Grande and Minaj to pop up on the internet. So, will Ariana Grande and Nicki Minaj make an album together?
You don't need to look too far for a possible answer to that question. On Saturday, July 7, Grande and Minaj were busy hinting at the fact that they are apparently both totally into the idea. Minaj got the ball rolling with a Twitter poll on Saturday night about a Grande-Minaj album. Minaj wrote on her official Twitter account, "Y'all, should Ari & I do an album together one day?" Before you get an answer to that question, I want to point out how much I love that Minaj refers to Grande as "Ari."
Back to the genius concept at hand. Of course Grande and Minaj stans were all quick to give the green light for this brilliant idea, but Minaj provided three options in her poll: "YASSSSSSSSSSS," "Hmmmmm," and "OMG YASSSSSSSSS btch tf!" This might be the best multiple choice question I've ever seen.
For inquiring minds, the poll results as of publication were 50 percent for "OMG YASSSSSSSSS btch tf!" and 34 percent for "YASSSSSSSSSSS," so it looks like fans are really here for this duo.
Another person who is totally down for another Grande-Minaj masterpiece is Grande herself. The singer retweeted Minaj's Twitter poll on Saturday with the caption, "duh, rose."
While most of Twitter isn't quite sure what "rose" means in Grande's response, the consensus is that it is a term of endearment. No matter what it means, it sure seems like Grande is down for another collaboration (!!!).
Grande isn't the only one excited about the idea. Fans came through with the excited AF tweets as soon as the idea of a collaborative album was out there.
It's no wonder that fans are excited about the prospect of full album from these two, because their latest track together is definitely a crowd-pleaser. "Bed" was released in June 2018, and the long-awaited video for the song was finally released on YouTube on July 6. As of Sunday, July 8, the playful mermaid-themed video had over 6 million views.
After listening to "Bed" and watching the video, who would not want an album-length mashup from the "Bed" singers?
This single from Minaj's upcoming Queen album is far from Grande and Minaj's first collaboration. The two have previously teamed up for 2014's "Bang Bang" with Jessie J and "Get On Your Knees" from Minaj's The Pinkprint that same year. Two years later, they were back at for "Side to Side" on Grande's Dangerous Woman album. When you look at how much these two have worked together, it seems like a full-length album together would be the next natural step.
Even though Grande and Minaj — and all of their fans — seem totally pumped about the idea of a joint album venture, I'm not sure when it would be released. Both singers have solo albums set to come out this summer. In addition to "Bed" on Minaj's Queen album that drops on Aug. 10, Minaj is also on Grande's album, Sweetener. The pair recorded a track called "the light is coming," which you can listen to now, ahead of the Aug. 17 release of Grande's fourth studio album.
The two singers were quite forward in their tweets on Saturday about the possibility of an album, so maybe they already have something in the works. Of course this is merely super-hopeful speculation, but I really hope Minaj and "Ari" get back together in the studio soon. Until then, I'll be here watching the "Bed" video on repeat.