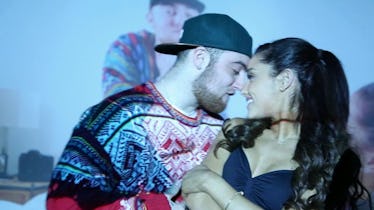 Ariana Grande May Be Writing A Song About Mac Miller For Her Next Album
YouTube
Ariana Grande will be honored as the Billboard Woman of the Year at the 13th annual Women in Music event on Dec. 6, and I am so, so happy for her! I mean, 2017 has been punctuated by some major highs for this queen — Sweetener became her third No. 1 on the Billboard 200 in August — but it also came with some serious lows. There's the broken engagement with Pete Davidson, and the loss of her ex-boyfriend Mac Miller on Sept. 7. The pop star reportedly dealt with Miller's death from an accidental overdose by diving into a new album. So will Ariana Grande have a Mac Miller song on 'Thank U, Next'? Because OMG that would so amazing!
I mean, I know Ari mentions Miller's name — along with exes Big Sean, Ricky Alvarez, and Pete Davidson — on her "Thank U, Next" single. The line "Wish I could say thank you to Malcolm/'Cause he was an angel," just breaks my heart every time. But has she also written an entire song dedicated to the rapper? Elite Daily reached out but did not hear back in time for publication.
But when Grande recently sat down for an interview with Billboard ahead of the Women in Music event, she definitely seemed nostalgic about her early days with Miller when they were working on her first album's lead single, 2013's "The Way." I mean, she even copped to motivating him by baking cookies, you guys! And when the interviewer later heard one of Ari's new songs, she was convinced it was about Miller.
Consider this passage from the interview:
When we made 'The Way,' I was like, 'Oh, wow, I'm onto something here,'" says Grande. Her face dims slightly; just before this interview, she was working on a new song, which, when she plays it for me later, I realize is about Miller.
Interesting, right? And it's not actually that hard to believe when you consider that Grande wrote a song about Pete Davidson after dating the SNL star for only two months.
Plus, the singer has already been working through Miller's loss in a very real and raw way on social media, where she's shared several heartfelt tributes following his death.
"I adored you from the day I met you when I was nineteen, and I always will," she wrote on Instagram on Sept. 14. "I can't believe you aren't here anymore. I really can't wrap my head around it. I'm so sorry I couldn't fix or take your pain away. I really wanted to. The kindest, sweetest soul with demons he never deserved. I hope you're okay now. Rest."
So much love and respect.
Meanwhile, while Miller is name-checked in "Thank U, Next," he didn't receive a page in Ari's "Burn Book" in the epic, record-breaking music video like exes Big Sean, Ricky Alvarez, and Pete Davidson did. But as some fans noticed, when Grande sang her verse about Miller, she looked up to the sky.
So sweet. And it turns out that Grande actually paid tribute to Miller in the video in an even more meaningful way. If you look closely at the video, you can see there are picture frames on Ari's night table. And while you can't actually see what's in them, take a look at what she tweeted out on Nov. 23:
Obviously, Grande truly cared for Miller, and if she does make a song for her "angel," I know it will be raw and real and beautiful — just like Ariana herself.