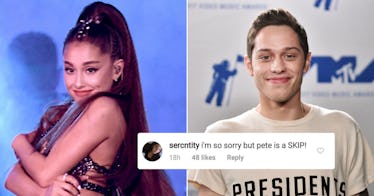 Ariana Grande Clapped Back At A Hater Who Dissed Her For Writing A Song About Pete Davidson
Kevin Winter/Getty Images; Alberto E. Rodriguez/Getty Images
Ariana Grande is giving Chrissy Teigen a run for her money when it comes to calling out "fans" who come for her on Instagram — and I am SO here for it! On July 19, the pop princess revealed the full Sweetener track list on her album's Insta account. We already knew about a few of the tracks, like "No Tears Left to Cry," "The Light Is Coming," and "God Is a Woman." But Grande gave us the rest of the titles, which included "Better Off," "Borderline," "Successful," and "Everytime," among others. Of course, also included was her much talked about track, "Pete." Yup, one of her songs is called "Pete," after fiancé Pete Davidson. And Ariana Grande's message to haters who tried to drag her for it is all kinds of epic.
"Y'all are gonna last maybe a year, break up and then you'll come crawling back to us or move on real quick like you did with mac," one of Grande's followers wrote in the comment section of her Insta post. "Sis this was a stupid idea."
"What happens when Pete and Ariana separate," added another. "She gonna have a SONG dedicated to him."
Well, my girl Ari wasn't having it, and she rolled up to the post to fire back in the nicest possible way.
"He's my fiancé," she wrote. "This is my album. I'm an honest and emotional artist and human being and if my openness in my work isn't for you, that's OK; I won't be offended. Still wishing y'all all the love in the world."
Such a QUEEN!
Grande has made this type of "kill 'em with kindness" clapback her signature lately. Like when a fan tried to come for her iconic high pony.
"I'm sick of that ponytail," the hater wrote under a pic of Grande, who was rocking the look while holding hands with Davidson, on stylist Mimi Cuttrell's Instagram feed. Um, what's your damage, commenter? Luckily, Grande seemed pretty much unfazed by the slight. "I'm not," she brilliantly clapped back.
A-plus, girl! You can see the whole amazing exchange go down over at @CommentsByCelebs.
Meanwhile, not everyone was opposed to Grande naming a song after her man. In fact, several of her Insta followers were totally into it. Check out some of these comments:
"OMG THERES A SONG NAMED "PETE" ?!?!! THATS KINDA ADORABLE #GOALS."
"Ariana naming a song off of her fiancé is the cutest thing to happen this year. I love you forever."
"Omg I'm so excited for the song Pete. I'm so excited to hear the lyrics and everything. It's going to be so pretty and perfect."
"Awwww there's a song about Pete??? How cute!!! Omg I'm going to f*cking jump off a bridge."
And when another user said she was excited about "Pete," because the couple's love is "so true and kind," Grande showed up with another reply.
"Thanks," she wrote. "It's a special song about the most special human being I've eva met. Also, the song is sick. Thanks for your kindness."
Sweetener will be released worldwide Aug. 17, which is in, like, 28 days. Until then, I'll just be over here like: