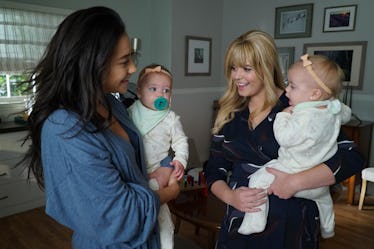 This Detail About The 'Pretty Little Liars' Spinoff Will Make Die-Hard Fans Scream
Freeform/Eric McCandless
Pretty Little Liars fans, get ready for your next obsession. In 2019, Freeform will be debuting The Perfectionists, a PLL spin-off that focuses on Alison and Mona — weird combo, I know — as they move to a small town in Oregon and discover a whole new set of secrets. The spin-off series exists in the same universe as Pretty Little Liars, so naturally, fans have one big question: Will Alison and Emily's twins be in The Perfectionists? Alison wouldn't just leave her infant daughters behind in Rosewood, right?
Many of the details surrounding The Perfectionists are a little hazy (it's a Pretty Little Liars spin-off, after all), but this is one question that actually has an answer. In a recent interview with Entertainment Tonight, creator I. Marlene King spilled a few secrets about which PLL characters fans will see in the spin-off, and her answer may surprise you.
While King wouldn't explain exactly why Alison left Rosewood for Beacon Heights, Oregon — "You'll hear about that right away in the pilot story," she said — she promised that Alison and Emily's twin girls, Lily and Grace, will appear on The Perfectionists. "You will see the twins," she told ET. I'm so relieved, because I was starting to worry that something seriously bad had happened to these two back in Rosewood.
When fans last saw Alison and Emily's twins in the Pretty Little Liars finale in June 2017, they were babies, but the pair will look a little different when The Perfectionists premieres. According to King, the spin-off takes place a few years after the PLL series finale, so Lily and Grace will be "a little older" when fans see them next. "I think they're toddlers now. They're, like, maybe 3 [years old]," said King.
So, yes, there will be a bit of a time jump between Pretty Little Liars and The Perfectionists, but it shouldn't be too distracting for fans. King described the new series' timeline as "a real-time time jump" from the original and explained, "From the time that we ended PLL, which was a year ago, to the time this show will premiere, it's sort of real-time." This means that Alison moves to Beacon Heights about one and a half or two years after the events of the Pretty Little Liars finale. Hopefully, fans will be treated to a few flashbacks about what happened during that time period, because I'm desperate to know why Alison is suddenly picking up and heading west.
Another thing I'm curious about? Why TF Alison is moving to Oregon without the love of her life, Emily (Shay Mitchell). King said that Mitchell and the original Liars were "all ready to go do new things" after the series ended, so as of now, it does not seem like Emily is going to be part of The Perfectionists. King told ET that figuring out how to continue Emily and Alison's relationship without half of the core duo was difficult, but she feels that the spin-off does their romance justice:
My challenge then, as the creator of this new show, was to honor Emison's relationship and continue to honor it as we launch this new story. It was a challenge, and I hope we've done the best job possible of honoring what we know is their truth.
OK, I know I sound like a broken record here, but now I'm worried that something awful has happened to Emily. All this talk about "honoring Emison's relationship" sounds a little ominous, right? Even without A (and A.D.), Rosewood isn't the world's safest place, so it's definitely possible that something could have happened to Emily during those two years.
While King's quotes about Emily don't seem positive, I'm holding on to one small morsel of hope. Mitchell hasn't totally written off appearing in The Perfectionists (she hasn't confirmed it, either), and when asked if Emily might make an appearance on the new series, King told ET, "I think everything is possible."
Fingers crossed that Emily is alive and well so that this possibility can become a reality when The Perfectionists premieres in 2019.