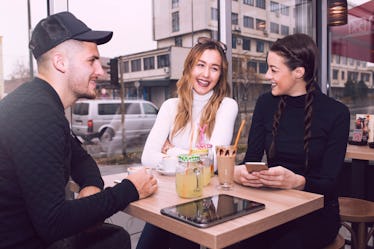 Here's Why Your Sister Should Meet Your Partner Before Anyone Else In The Family
Introducing your SO to your family for the first time can be one of the most stressful things ever. You thought final exams were difficult — but just imagine bringing the people you love most in this world together and hoping they get along. It can either go oh-so-right, or oh-so-terribly-wrong. If your family doesn't care for your partner, that could really hurt either of your relationships. There's a lot riding on this intro, so you definitely need to ease yourself, and your bae, into it. That's why your sister should meet your partner before anyone else in the family.
If you're closest with your sister in your family, she's basically your BFF. You know that gauging her reaction to meeting your bae will tell you so much on what to expect when introducing him or her to everyone else. It's similar to getting into a cold pool. You stick your toe in first (aka, intro with your sis) before jumping into the deep end (aka, meeting your entire family). No one's got time for a Meet The Parents situation, so breath a sigh of relief knowing that you are #blessed to have a sister who's going to help you out.
These six reasons will definitely make you want to introduce your partner to your sister first. After that sister intro, it will be a total piece of cake.