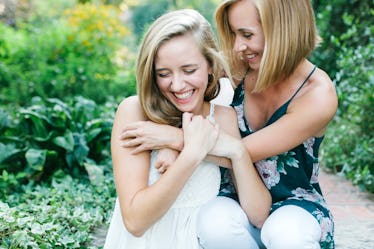 Why Your Older Sister's Opinion Really Matters, Even When You Don't Want To Hear It
If you're the little sister, you probably grew up watching your older sis tackle and conquer life's obstacles first. You thought she was so cool, and you wanted to follow in her footsteps. At times, you honestly could have been mistaken for her shadow. You would never admit it to her face, but you totally looked up to her in so many aspects of life — from her trendy fashion sense, to her awesome taste in movies. Now that you're older, you're embracing your own unique identity. You may not want to hear the advice she has to offer, but there are reasons why your older sister's opinion really matters — no matter what age you are.
You know your sister will be brutally honest with you, even when you just don't want to hear the honesty at all. But, it's the unfiltered advice she provides once you've blossomed into adulthood that truly matters the most. You may huff and puff, and think your older sister is babying you, but these six reasons back up why you should always cherish her opinion. Secretly, you know you're beyond blessed to have a great sister in your life to share her truths.