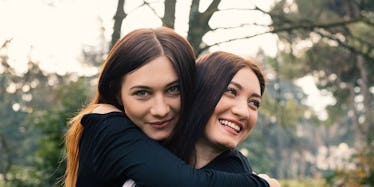 6 Mistakes Your Older Sister Made So You Definitely Didn't Have To
pio3/Shuttershock
If you have an older sister, you know that sisterhood deals with a lot of watch and learn. You two may not be exactly the same, but the stuff you'll experience as women in general is parallel. Your older sister literally lays out the stepping stones to make your life a whole lot easier.
It's a huge world out there, and it's easy to feel singled out and alone when you have to face adulting responsibilities for the first time. But literally, cape and all, your sister swoops in and goes through it first, so you can take notes on her trial and error. There are a few ways your sister guides you through life to cushion the blow for you.
1. Anything Involving The Dating World
Whether it was dating a string of players, or going back to an ex, your sister experienced it. And as much as you're going to go through your own dating tiffs, she'll have a genuine, hands-on point of view to help you get through it all. You'd be more than wise to listen to what your sister has to say about love.
2. Not-So-Trendy Hairstyles
If your sister literally gags on the word "bangs," or can't even be in the same room as bleach, take her hair advice. She can tell you the ins and outs of what isn't so DIY. I mean, you remember, you were there.
3. College Experience Slip-Ups
No one wants to be the tester child, but if you're the older sister, you don't really have a choice. Going off to college leaves room for a lot of interesting and hilarious scenarios, because it's the beginning of being on our own. And you may make some of the same mistakes, but at least you were given a heads up.
4. Any Parental Drama
The soap opera dramas your sis may have had with your parents was not only entertaining, but educational. You find out just how much you can get away with without starting another world war. Hey, your sis is supposed to protect you, isn't she?
5. Money Management Madness
Even if your sister didn't know it, you caught on to her money situation as well. She doesn't mind showing you the shoes she shouldn't have bought or buying a round of drinks. The point is, you have to take a lesson from how she manages her money.
6. Not Catering To Self-Love
Again, your sister had to step into the world and establish her own variation of womanhood. There can be down times, you know, where you lose sight of yourself. All in all, you learn from her that it's OK to get discouraged, but you always have to love and appreciate your true self.
Our older sisters are literally our handbook in human form. It's super self-sacrificial, laying out the stepping stones for your younger siblings. And whether they were overbearing or not, they'll always have your best interests in mind.