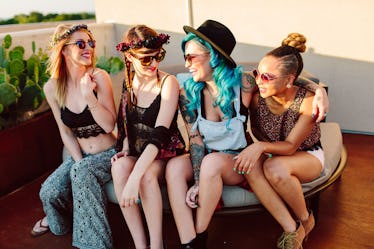 Why Your Home Friends Teach You The Most About Yourself In Your 20s
Your home crew is likely one of the best highlights of your childhood. You can't imagine your home life without them, and even if you're currently on opposite sides of the country, your childhood town will always tie you together. A lot has changed since the days of football games and pep rallies in high school, though. Nowadays, you're adulting in the real world, which can be intimidating. Thankfully, your home friends teach you the most about yourself during your 20s.
Your home friends are genuine gems, and they've been there through thick and thin. I'm talking puberty, submitting college apps, and the works. There's seriously nothing you face that they can't help you out with, because you're all naturally there for each other (and always will be).
In your 20s, shaping your identity isn't so simple. You're figuring out your interests, finding your career path, traveling, and aiming to live your best life. Every day you're trying to decide what being "you" actually means. Yeah, it can get pretty complex and insightful, but you have your day ones to get you through it all. You don't have to learn who you are alone, because these seven reasons are reassurance that your home friends are the best teachers.