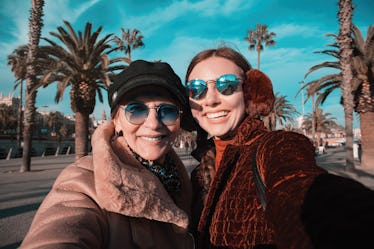 Why Your Cool Aunt Is The Best Friend & Role Model You Could Ask For
Your aunt's not a regular aunt — she's a cool aunt. You know she's one-of-a-kind, because "cool" isn't a title you just bestow upon anyone. You have to earn that superlative, and your aunt proves she's the coolest on the daily. She's so much more than a relative you only see on certain holidays, because she's a great friend and role model, all in one. Only those who have someone like that in their family understand why your cool aunt is the best, but it's really not difficult to see from the outside.
I consider myself extremely lucky, because I have a really cool aunt. Growing up, I couldn't wait to see her during family reunions, and I'd choose spending time with her over any of the other kids my age any day. She treated me like a best friend, even though I know now how annoying it must have been spending so much time with an exuberant kid like me. Not only was she kind, but had the best style and greatest hair ever.
Though, it's so much more than fashion and beauty that makes a cool aunt the best. You also have to have these nine qualities that make you someone totally special, and also cool as heck to hang out with.