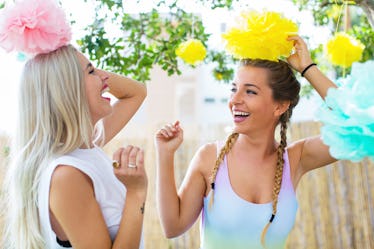 Why Your Big Sister Gets You Like No One Else & Always Will
Being a sister comes with a lot of perks. You get a friend for life, someone to share clothes with, and a person you can trust with every secret. If you have a sis, you're already one lucky girl, but as the younger sis, you get some extra bonuses. You see, there's no denying that your big sister understands you like no one else, and always will.
Sure, you have your best friend who's like the PB to your J, but your sister is the sandwich maker who knows exactly what kind of PB and what kind of J you need for the perfect lunchtime combo. You may think you and bae click on another level over everything, from movies to music — but you and your big sis wrote the book on how to click like that. As someone who is basically you in a nutshell, but a few years older, she understands everything you're going through, and that's what gives her those dope sister powers.
Pretty much, your big sister knows you better than you know yourself, which can be a bit annoying at times, but ultimately, you love it. It comes in handy, and it's all because of these six things that makes your sister so special.