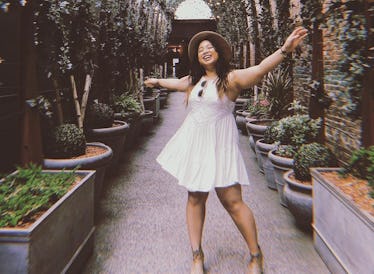 Why You Should Try Traveling For A Living In Your 20s
Traveling for a career used to sound like a fantasy to me. I had always been captivated by the lifestyle of travel writers and influencers who were able to explore the globe and get paid for it. Most of me thought that it would be the coolest job ever, but a smaller, quieter part of me believed that traveling for a living might be lonely and isolating. As I've racked up many miles trotting around the globe for work, I now know why you should travel for a living in your 20s.
Before I even graduated college, I spent a lot of time hopping between cities. I went to school in Boston, would often go to New York for meetings, job interviews, auditions, and gigs, and flew home to Tampa as much as I could to see my family. Since I graduated, I've been doing a lot of the same. I'm currently splitting my time between NYC and Los Angeles, I often go back to Boston for gigs, I visit my family in Tampa when I can, and travel all over the country and the world to write about various destinations and experiences.
Living a nomadic lifestyle has been a dream. And even though it's hard at times (getting up at 5 a.m. to work East Coast hours on the West Coast isn't the most glamorous thing I've ever done), I honestly wouldn't change it for the world. If you're thinking of dropping your 9-to-5 to try traveling for a living, here's why I think you should go for it.