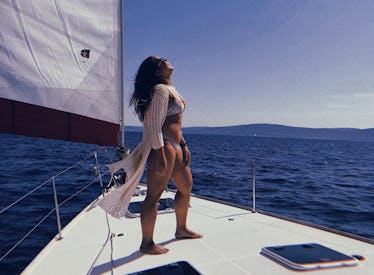 How A 7-Day Sailing Trip In Croatia Actually Changed My Life
I'm not a fan of throwing around the term "life-changing." It tends to be overused for things that aren't actually changing someone's life. But every once in a while, something incredible happens that really lives up to the term. The combination of an awe-inspiring destination, wonderful travel companions, and experiences that teach me something new, is the perfect recipe for a memorable time. So, disdain for the term aside, I'm always looking for a product or trip that will have a life-altering impact on me. This is how my recent seven-day sailing trip in Croatia changed my life.
Let me start off by saying that, prior to my trip, I didn't really know anything about sailing. I had been on boats, but never spent an extended amount of time on the water. When I embarked on Sunsail's food and wine flotilla through Croatia's Dalmatian Coast, even though it sounded like an exciting and unique experience, I was the tiniest bit apprehensive. I wasn't sure if I would get seasick or if I would be useless on the boat — not to mention the fact that I knew absolutely nothing about Croatian culture.
I'm so glad I took the leap and decided to go, because it was a trip unlike anything I had ever experienced before. (I think I used the word "magical" more than once.) I hopped off the boat at the end of the week completely refreshed with an open mind and a newfound appreciation for sailing and Croatia. And after this trip, I truly can't wait to go back.