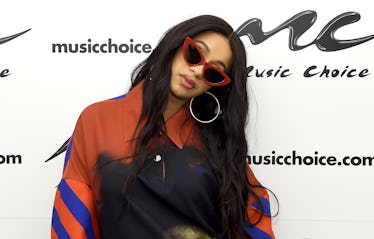 Cardi B's Rep Just Shut Down Rumors She'll Perform At The Super Bowl & Here's Why
Jamie McCarthy/Getty Images Entertainment/Getty Images
Cardi B is doing almost everything right now. When she's not continuing to break records for her multi-platinum breakthrough album Invasion of Privacy, she's balancing motherhood to baby Kulture and co-parenting with Migos member Offset. One guaranteed thing she won't be doing, however, is performing at the upcoming Super Bowl. Sorry to let you down, but if you're wondering why Cardi B won't perform at the Super Bowl, I can at least answer that for you.
While some people might think it's about money, as previous rumors claimed that Cardi had requested $1 million to perform during the halftime show, her real reason for declining the gig reportedly had absolutely nothing to do with that. A representative for the "Be Careful" crooner pushed back on those rumors in a Dec. 21 interview with Page Six, saying that Cardi ultimately decided to stand in solidarity with Colin Kaepernick, the former 49ers quarterback who has made headlines for his decision to kneel during the national anthem during NFL games back in 2016. The representative also mentioned that the performance was never a sure thing anyway, explaining:
The rumor circulating that she wants a million dollars and she wants her own set is false. There was never a firm offer to begin with for a performance. There [were] talks about it, but she was not particularly interested in participating because of how she feels about Colin Kaepernick and the whole movement . . . But again, there was never a solid offer for her to say yes or no to regarding the Super Bowl.
The source added, "She is already confirmed to do a set with Bruno Mars that weekend." Elite Daily reached out to Cardi's representatives for any additional comment on the matter, but did not hear back by the time of publication.
So there you have it. Looks like she won't be there, no ifs, ands, or buts about it. But in her defense, some people have apparently strayed away from performing at the show for the same reason — and they're not just any ol' names. Your favorite Barbadian beauty, Rihanna, reportedly declined to perform in support of Kaepernick. Other stars like JAY-Z have also reportedly been contacted in regards to the halftime show, but turned their offers down, according to Billboard.
And the ones that have reportedly signed on to the show (Travis Scott and Maroon 5) have done so to heavy criticism. Reverend and activist Al Sharpton, and Creed actor Michael B. Jordan are just two of many who have called out Scott for agreeing to perform. And there's a Change.org petition targeting Maroon 5 that has more than 77,000 signatures, as of writing, calling on the group to drop out of the show. So, yeah... I can't say that I blame this burgeoning star from staying far, far away from anything that could be controversial.
And like I said before: she's got so much keeping her busy. With any luck, she'll be on your TVs and radios regardless.