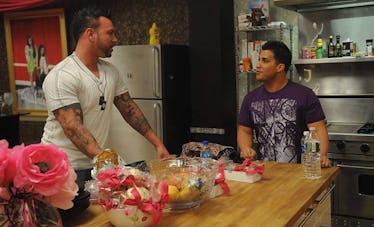 Two People Were Noticeably Missing From This Week's 'Jersey Shore Family Vacation'
MTV
The Jersey Shore family has grown a lot since the show first premiered in 2009, and all the new members of that family got some time to shine in Thursday night's new episode of Jersey Shore Family Vacation... or at least, most of them did. Setting aside the hard-partying antics for a bit, the latest episode got all of the fiancé's and husbands of the cast together for a big dinner in Atlantic City, but two spouses were notably absent. So, why weren't Jionni and Roger on Jersey Shore Family Vacation with everyone else? Some viewers may have been curious about that, so let's talk about why Snooki and JWoww's husbands sat this episode out.
On Thursday night's latest episode of Jersey Shore Family Vacation, we got to meet Deena's husband Chris at the couple's gender reveal party for their baby, and later, Chris came to dinner with everyone in Atlantic City, including Mike's fiancé Lauren and Angelina's fiancé who is also named Chris. The whole group got together for Mike and Pauly D's joint birthday party, but JWoww did not bring her husband Roger, and Snooki and her husband Jionni both skipped out on the dinner.
Before the dinner, Snooki mentioned that she would have to miss the Atlantic City trip because she was the matron of honor in a wedding that weekend, but even if she was able to make it, we would not have seen Jionni on the Jersey Shore Family Vacation cameras. Although Jionni appeared on Jersey Shore and follow-up reality shows Snooki & JWoww and Nicole & Jionni's Shore Flip, he revealed before Family Vacation began that he did not want to be a part of the reunion series.
On the other hand, JWoww's husband Roger Mathews actually did briefly appear at the beginning of an episode of Jersey Shore Family Vacation this season, but that might be it for his time on the show. News broke a couple weeks ago that JWoww had filed for divorce from Roger citing irreconcilable differences. Of course, the two were not divorcing at the time of the episode, but this divorce happening so soon afterwards suggests that JWoww and Roger may not have been in a great place during Mike and Pauly D's birthday weekend.
JWoww even briefly spoke about the issues that she and Roger had on last week's episode of Jersey Shore Family Vacation, saying that the show itself had created some tension for their relationship and it nearly led to divorce at one point. Snooki echoed JWoww's sentiment, revealing that her reality TV career has also led to fights with Jionni in the past. That may have also been part of the reason why Jionni opted out of appearing on Family Vacation.
Although it sounds like the two men are doing what is best for them by staying away from the cameras, it may be a bummer for some of their fans. Jionni and Roger formed a tight-knit bromance on Jersey Shore that continued in Snooki & JWoww.
Jersey Shore Family Vacation airs Thursday nights at 8 p.m. ET on MTV.