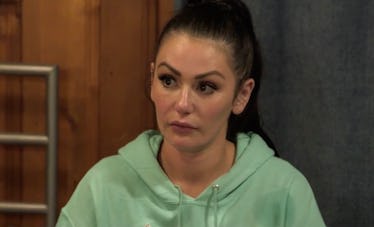 JWoww Talked About Her Divorce On 'Jersey Shore Family Vacation' Before It Happened
MTV
The new Jersey Shore reboot has been a strange mixture of light, silly fun and unexpected darkness. That darkness has swirled around Ronnie's roller-coaster relationship with Jen Harley for the most part, but recently, Jenni "JWoww" Farley shocked fans as well with the revelation that she had filed for divorce from her longtime partner Roger Mathews. Although the divorce news broke just a couple of weeks ago, JWoww talked about her divorce on Jersey Shore Family Vacation's most recent episode on Thursday night, which was filmed months ago.
All the women of Jersey Shore Family Vacation opened up about how difficult it is for them to appear on the reality show while also keeping things together in their relationships at home. Angelina was the first to open up, revealing that she had recently thrown off her engagement ring after her fiancé Chris ghosted her for a full day and night. Earlier in the episode, Angelina pulled down her pants and sat on a cake after being dared to, and Deena asked her if she thought Chris would be OK with her showing her butt on television. Angelina said Chris is fine with certain things, but that launched JWoww into saying that no man is secure with their girlfriend being involved in a show like Jersey Shore.
Snooki echoed JWoww's statement, and both women said that they have had to deal with fights with their husbands over their participation in Jersey Shore Family Vacation. That's when JWoww revealed that one of the fights she had with her husband Roger almost led to divorce. Of course, that statement has much more resonance for viewers watching the episode, since we now know that JWoww has since filed for divorce from Roger.
At the end of September, Jenni Farley filed for divorce from her husband of three years Roger Mathews, citing irreconcilable differences. Mathews and other sources have stated that there was no cheating or abuse involved, but that the couple had simply been in a bad place for a while. Sources claim that they were recognizing their issues before JWoww had left to begin filming Jersey Shore Family Vacation, which her statement on this week's episode seems to confirm.
Although JWoww has been silent about the divorce publicly, Roger took to social media shortly after the divorce was announced and stated that he was going to win his wife's love back:
My wife filed for divorce, it's true...I don't blame her. There's no cheating or any dumb s— or any juicy details. She just grew tired of the repetitive pattern that we fell into. Again, I am not going to get into detail, but it was a repetitive pattern and not a good one...Here's what's also true: I'm not done fighting. I am going to win my wife back. I'm going to win her affection back. I am going to win her love back. I have no intentions on being a single dad. We're in counseling, so there is hope. It ain't over 'till the fat lady sings.
Jersey Shore Family Vacation airs Thursday nights on MTV.