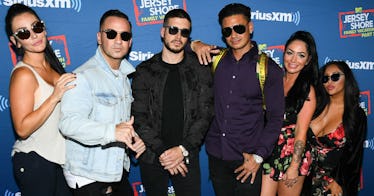 Here Are The Chances We'll Get A 'Jersey Shore Family Vacation' Season 3 – EXCLUSIVE
Dave Kotinsky/Getty Images Entertainment/Getty Images
Jersey Shore Family Vacation has finally returned to our television screens and the season two premiere did not disappoint, delivering all the hilarity, emotional highs and lows, and drama you've come to expect from your favorite guidos and guidettes. So the question on everyone's mind now is: Will there be a Jersey Shore Family Vacation Season 3? Well, the premiere of season two saw Ronnie introduce the world to his infant daughter, Ariana Sky, and revealed the messy details behind Ronnie's current relationship woes with Jen Harley. It also teased the return of everyone's least favorite former cast member, Angelina, and even hinted at her rekindling her flirtatious relationship with Vinny of days past. And that's not even scratching the surface of all the drama that's bound to go down this season. So, there has to be a third season, right?
Elite Daily caught up with the cast to discuss all things Family Vacation: Part 2, and they were more than willing to dish their feelings about filming a possible third season.
When asked if we would be seeing the cast in a third season of the hit show, Snooki, JWoww, Pauly D, Vinny, Mike "The Situation," Deena, and Angelina didn't confirm anything, but they were all definitely pumped about the prospect.
"We wish," says JWoww.
"You're gonna have to ask the boss," Pauly adds.
"Yeah, ask MTV," Snooki offers.
But leave it to Vinny to jump in with the most thoughtful (and teasy) response. "We can say this next season is a lot of content, so the fans are going to have a lot to see," he teases. "But we would just love to continue going on vacations and living our lives for everybody."
So would we, Vinny! And a lot seems to be working in the fans' favor in terms of a third season happening.
The first season of Family Vacation saw JWoww and Snooki struggling really hard with being away from their kids, but according to JWoww, production has figured out how to make filming the show and being present with their kids much easier.
"Production realized in Miami. It was so hard. It was a month," JWoww explains about how filming season one kept them away from their kids for a long period of time. That changed for the second season. "This time we broke up the trips, so we were in Vegas, we were in [Atlantic City], we were in Seaside, we were in Jersey. So it wasn't a straight month."
"It was still hard," Snookie interjects.
But if you ask JWoww, it's the drama that made filming the hardest. "The drama made it worse for me," she explains.
But if the drama is so bad, what keeps the cast coming back for more? Well, in the end, they're one big dysfunctional family that can't get enough of each other.
"At the end of the day, we love it," Pauly shares.
"We love each other and it's just magic when we come together. It really is," Mike says in agreement. "I'm so excited when we see each other because you never know what's going to happen. So, I'm excited to do more of these."
Then Vinny jumps in to give insight into the nuanced nature of the casts' enduring love for each other. "Obviously we do things on our own, but when we all come together, it's like magic. And we legit like each other. We text each other all day long," he shares. "Getting together, it does get dramatic with the filming and stuff — that's an added stressful element. But together, we're fine. We actually enjoy it."
Long story short: There's no confirmed third season yet, but based on the enthusiasm emanating from the cast about the prospect of filming more seasons of the show, it looks like all signs are pointing to a third season being officially announced soon. My fingers are definitely crossed.