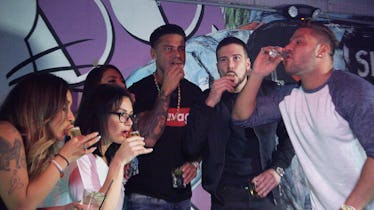 8 Secrets You Didn't Realize While Watching 'Jersey Shore Family Vacation'
MTV
After four drama-packed episodes of Jersey Shore Family Vacation, it seems like we've seen it all. Fans have already seen Nicole "Snooki" Polizzi lose her wedding ring, Vinny Guadagnino's new dance moves, Mike "The Situation" Sorrentino's complete transformation, and a half-naked hot tub party, so what could we possibly not know about this season of Jersey Shore? As it turns out, there are still plenty of behind-the-scenes secrets you didn't realize while watching Jersey Shore Family Vacation, and I'm here to spill the tea about all of them. Cameras may be following the guidos and guidettes around 24/7, but the cast still managed to keep a few secrets from the prying eyes of MTV's camera crew. Can I get a yeaaaah buddy?
On this season of Jersey Shore Family Vacation, the original cast (with the exception of Sammi "Sweetheart" Giancola) is reuniting down in Miami for some much needed R&R. And when I say R&R, I mean Ron Ron Juice and recklessness, not rest and relaxation. The cast may be older, but they're definitely not wiser: Fans have already seen fights break out as years-old grudges come to the surface. But what we see on camera isn't the whole story — there's plenty of fun happening behind-the-scenes as well. These secrets you didn't realize while watching Jersey Shore Family Vacation will totally blow your mind, and I guarantee that you'll be watching each episode a little closer by the time you're through.
1. The shoot lasted much longer than it was supposed to.
According to Buzzfeed, the Jersey Shore Family Vacation shoot lasted about a month, despite rumors that production would take less than two weeks. On January 17, Snooki posted a cute snow day video with her kids, writing, "Snow day with my babies before MAWMA leaves tomorrow."
A month later, on February 18, Snooki posted a selfie to mark the final day of shooting in Miami.
A month is a long time for a vacation, don't you think? Although what am I saying, a month-long vacation sounds amazing.
2. The Miami house was nicer than any of their previous Jersey Shore digs.
In a video for OK! Magazine, Snooki, Mike, Vinny, and DJ Pauly D discussed their extravagant house in Miami, saying that it was way nicer than their previous homes in the Jersey Shore, Florence, and Miami. "The house was sick," said Pauly D, and Mike agreed, saying that it was "so dope." "I feel like we never stayed in a house that was so bougie," said Snooki. "We worked 10 years to finally get into a mansion," joked Mike. Sure, let's go with "worked," Mike.
3. Pauly D now has a "Cabs Are Here" shirt.
Because of course he does. The group didn't have access to their phones during filming, so they took cabs, not Ubers (it's 2018, people) to the club. But I'm sure Pauly D was OK with it, because how often does he get to say "Cabs are here!" anymore? Snooki posted a pic of Pauly in the now-iconic shirt on her Insta story back in February.
4. Sharing a bathroom was the worst.
If you've seen even five minutes of Jersey Shore, then you know that Ronnie has a serious bathroom issue. As in, he clogs the toilet practically every time he goes. Fans have already seen him clog one toilet in Jersey Shore Family Vacation (it was so gross that MTV had to blur it), but according to Snooki's Insta story, that's not the only bathroom he wrecked. While giving a tour of the makeup trailer, Snooki gave fans a peek into the bathroom, writing "Our new home" and tagging Ronnie. "And we have a shower... a potty that smells like a fart," she said. Some things never change.
5. The hangovers were killer this year.
The roommates are still down to party (and party they do), but now that they're older, they just can't party as hard as they used to. Snooki told Life & Style that now that she's a mom in her 30s, day drinking into the night is pretty much off the table:
If we drank all day then we'd have to sleep in all day to recover. The hangovers were the worst.
I have to imagine that there's nothing worse than putting makeup on and filming all day when you feel like you're going to die from a hangover.
6. Fans probably won't see Jionni on TV again.
Even though Nicole is living it up in Miami, don't expect to see her husband, Jionni LaValle, on the show any time soon. In January, Jionni took to Instagram to explain why he won't be appearing in Jersey Shore Family Vacation, writing, "I simply DO NOT like it." You have to respect the guy for refusing the fame and trying to live a quiet, normal life.
7. Pauly used the smush room the most.
This one isn't a huge surprise considering that Pauly was the only single one when the group arrived in Miami. Pauly, Vinny, Mike, and Snooki told OK! Magazine that there was definitely a designated smush room in the house. "And I wasn't the only one using it, just saying," said Pauly D. He added, "I used it the most." And who used it the least? "Everybody else," joked Vinny. Snooki also teased that other people will be getting some action this season, too: "But it was used, we just can't say." Ooh, I can't wait for that episode.
8. The cast did try to convince Sammi to join them in Miami.
Sammi's absence has been felt pretty acutely this season on Jersey Shore Family Vacation, but the cast explains that they tried really hard to get her to join them. "We tried to convince her for, like, multiple days. Three days. On group text. We were like, 'You gotta do it,'" Mike told OK!. "She was over it," added Snooki. Sammi says she's didn't do the show because she's "in a good place" right now, but her roommates think she'll come to regret the decision. Said Pauly, "If you look up 'regret' in the dictionary, there's a great big picture of what she's going to feel after this airs." Ouch, Pauly! That's cold.
Jersey Shore Family Vacation airs at 8 p.m. ET Thursdays on MTV.