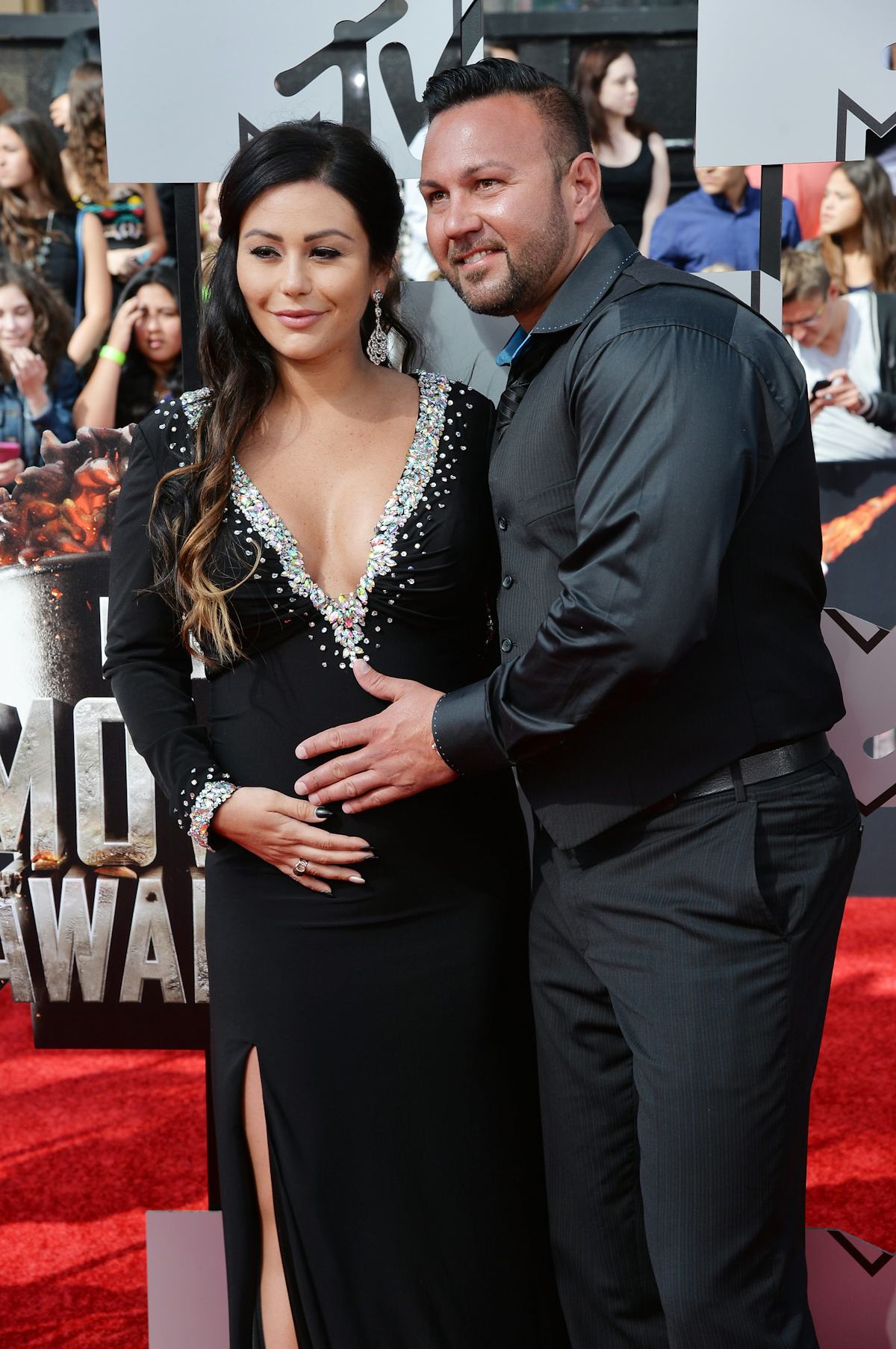 Roger Mathews Posted An Emotional Instagram Following The News Of His Split From JWoww
Michael Buckner/Getty Images Entertainment/Getty Images
Longtime Jersey Shore fans were heartbroken over yesterday's news that Jenni "JWoww" Farley and her husband of nearly three years, Roger Mathews, have reportedly broken up. TMZ broke the story, claiming that Jenni filed for divorce on Sept. 12 in Ocean County, New Jersey. Now one half of the couple is opening up about the split. Roger Mathews' Instagram about his divorce gives some insight on the situation from his perspective.
"Praying for a better tomorrow. Sorry world, I'm taking a day off from praying for you today and I'm just gonna pray for my family. Hope springs eternal," Mathews captioned an Instagram video from the night of Sept. 27.
"My wife filed for divorce, it's true," he admits, before clarifying that he "doesn't blame her," "there was no cheating," and no "juicy details."
"She just grew tired of the repetitive pattern that we fell into. But it was a repetitive pattern and not a good one," Roger says.
But he also wants people to know he's not giving up on his marriage. Roger goes on:
Here's what's also true. I'm not done fighting. I'm gonna win my wife back. I'm gonna win her attention back. I'm gonna win her love back. I have no intention of being a single dad. We're in counseling so there is hope. It ain't over til the fat lady sings.
Jenni and Roger got married in October of 2015 after dating for years. Their relationship has been documented on Jersey Shore. The couple have two children together: 4-year-old Mailani Alexandra and 2-year-old Grayson Valor.
According to the The Asbury Park Press, Jenni's divorce complaint cites "irreconcilable differences." It states:
The Plaintiff and the Defendant have irreconcilable differences which have caused the breakdown of the marriage for a period of at least six months which make it appear that the marriage should be dissolved and that there is no prospect of reconciliation.
Jenni has been candid about her relationship with Roger over the years, even speaking with ET in 2016 about the "deal breakers" the pair would separate over. Those included "cheating" and "things you can't go back in time" to fix. Jenni has also maintained that you can't have a happily ever after if you don't put the work in. For her, divorce is an option if you're "truly unhappy." Jenni further explained:
Day in, day out — especially raising two children — the differences of opinions on how to raise them, where to live, where to send our kids to school. You have to find happy middle ground on those issues. In this day and age, I just feel like it's easier to quit, and a lot of relationships do.
Jenni has not spoken out about the divorce as of yet. She and pal/fellow Jersey Shore cast member Nicole "Snooki" Polizzi have had a rocky road this season of Jersey Shore: Family Vacation, but Snooki took to Instagram to share a sweet photo of the two of them.
"We are forever, my love," a portion of her caption wrote.
It appears Jenni's got her Jersey Shore fam to support her through this difficult time. Time will tell if she and Roger come to a reconciliation.