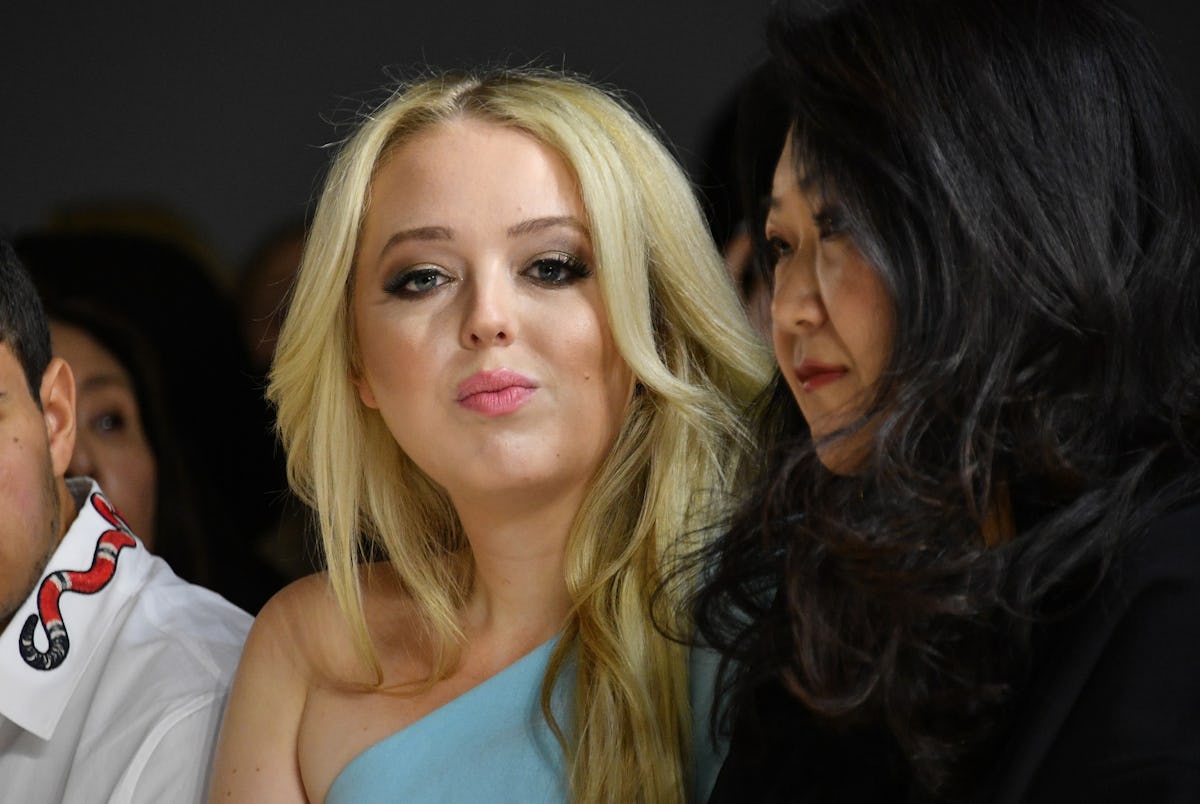 Tiffany Trump Was Notably Absent From This Year's Turkey Pardon At The White House
Dia Dipasupil/Getty Images Entertainment/Getty Images
It seems like every Trump kid is in and out of the White House — except for Tiffany Trump. Maybe President Donald Trump's youngest daughter likes to stay clear of the spotlight, but she usually always shows up for important family events like the annual turkey pardon. However, 2018 was different. Why wasn't Tiffany Trump at the 2018 Turkey Pardon? She was notably absent from the event.
In 2017, Tiffany Trump attended the annual event at the White House. During last year's turkey pardoning ceremony on Nov. 21, 2017 in the White House's Rose Garden, Trump showed up looking downright jolly in a red coat (matching with her older sister, Ivanka Trump, and niece Arabella Kushner). Personally, I would never go within 10 feet of a turkey, but one photographer snapped at just the right moment and caught the youngest Trump daughter leaning in to pet Drumstick, one of a pair of turkeys pardoned by her father (the other's name was Wishbone).
Oh, and look how happy Trump looked with her sister and niece all dressed up in their autumn best and holding hands. It's almost like they're just some normal family on the holidays... or maybe not, I doubt normal families smile that much when they're all together.
So, where was Trump this year? It's not entirely clear, but she wasn't the only Trump sibling to miss the event. Eric Trump and Donald Trump Jr. were also not in attendance.
It's possible she simply had a conflict. But, it's also important to note that it seems Trump didn't spend Thanksgiving with her father last year in Mar-A-Lago, rather spending it with her mother, Marla Maples, in a location that definitely looked less than Florida warm. It's possible she already traveled to wherever she plans on spending Thanksgiving this year.
According to The White House Historical Association, the tradition of pardoning turkeys stems back to 1863 during the time of President Abraham Lincoln. The White House Historical Association also notes that while while Lincoln appears to be the first to give clemency to a turkey, most credit the pardoning tradition we know today to President Harry S. Truman because he was the first president to get a turkey from the Poultry and Egg national Board and the National Turkey Federation.
Leading up to Thanksgiving 1947, there was a push from government for "poultryless Thursday." That year Thanksgiving, Christmas, and New Year's Day, all major turkey-eating holidays, fell on Thursdays, and so the poultry industry was angered by the campaign. In protest they sent crates of live chickens, called "Hens for Harry," to the White House. The aforementioned turkey given to Truman that year was a sort of publicity stunt to support the poultry industry, but it turned into a tradition that's still kicking to this day. But the actual "pardoning" didn't really start until the President Richard Nixon era, when in 1973, Patricia Nixon, accepting the turkeys for Nixon, sent one to the Oxon Hill Children's Farm, according to the White House Historical Association.
While I never really thought about how the whole thing got started, I do thoroughly enjoy watching first families gather around giant turkeys.