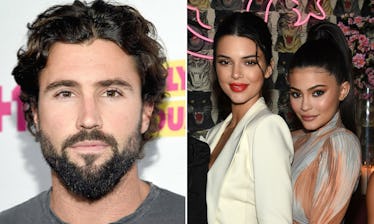 Brody Jenner Got Married This Weekend, But Kendall & Kylie Jenner Didn't Show Up
Frazer Harrison; Dimitrios Kambouris / Getty Images
Brody Jenner, The Hills heartthrob, officially tied the knot this weekend to longtime girlfriend Kaitlynn Carter. The two got married in Nihi, Sumba Island in Indonesia, but there were some noticeably missing people from the happy event. Why wasn't Kylie Jenner at Brody Jenner's wedding? Well, according to E! News, Kylie wasn't the only Jenner who didn't show up. Kendall Jenner, Caitlyn Jenner, and all of the Kardashians were no-shows.
Brody told People on May 29, just days before the wedding on Saturday, June 2, that Kendall and Kylie never responded to their wedding invitations. "My two little sisters, we never even heard from them," he said. "They never even RSVP'd I don't think. We sent them an invite but we just never heard anything back." He continued, "Well, they'll be missed. I would have loved to have had them there."
As for Caitlyn Jenner, whom I am genuinely shocked didn't attend her own son's wedding, she apparently had work commitments that couldn't be rescheduled and had to miss the wedding. People reports that she will be throwing Brody and Kaitlynn a party when they get back from Indonesia to make up for her absence. "Caitlyn has work commitments that have been set up for months and couldn't be changed in the end," a source told People, adding that "everything is good between them." The source continued, "She will be throwing a big party for them when the newlyweds return to town."
It's not clear why Kendall and Kylie Jenner didn't go to the wedding. Kim, Khloé, Kourtney, and Rob Kardashian didn't go either. (It's also not clear if the Kardashian siblings were even invited.)
Brody, Kaitlynn, and their friends and family seemed to have a great time in Indonesia despite the absence of the Kardashian-Jenners.
The wedding guests seemed to have spent a week on the island resort in Bali, Indonesia, before the wedding went down on June 2. Jenner's Instagram story on Sunday, June 3, showed him and his friends and family (his mother, Linda Thompson, and brother, Brandon Jenner, were there) enjoying their last day on the picturesque island.
As for what the Kardashians were up to on June 3, they all attended North West and Penelope Disick's unicorn-themed birthday party.
Kim Kardashian posted a bunch of videos from the party and it looks like it was a grand old time.
Kylie Jenner was there with baby Stormi.
Kris Jenner posed for an adorable shot with Dream Kardashian.
Khloé Kardashian is still living in Cleveland with baby True, so she wasn't at the party, but she did post the photo of Kris Jenner and Dream to her Instagram story because, well, it's freaking adorable.
Caitlyn Jenner was at the Life Ball in Austria on Sunday, June 2.
The Life Ball is a yearly AIDS and HIV fundraiser that celebrated its 25th anniversary this year.
Despite some of their family members not being there, the Jenners still had a great time in Indonesia and posted all about it.
Kaitlynn Carter posted some seriously gorgeous videos of their resort to her Instagram story.
They also had a poolside screening of Grease for everyone.
The wedding hashtag was apparently #JennerIsland, which I gotta say, kind of has a fun ring to it.
Brody's mother, Linda Thompson, posted a video of their tree houses at the resort (yes, tree houses), and I officially am going to throw my phone into the ocean, fly to this island, and never look back.
She captioned the post, "Getting ready for the nuptials of @brodyjenner & @kaitlynn while saying happy anniversary to the wonderful couple @brandonjenner & @leahjames!"
She also posted a cute shot of Brody and Kaitlynn just a few days before they became a married couple.
The post said, "The soon to be newlyweds @kaitlynn & @brodyjenner taking a selfie... #JennerIsland #Bali #Seminyak." I really need to know if Kaitlynn plans on taking Brody's last name and adding another Kaitlynn Jenner to the family. Can anyone confirm? K, thx!