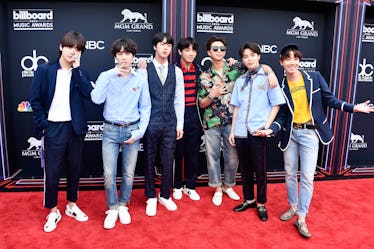 Here's Why BTS Wasn't At The People's Choice Awards This Year Despite Being Nominated
Frazer Harrison/Getty Images Entertainment/Getty Images
The 2018 People's Choice Awards are in full swing, and there are ton of your favorite celebs walking the red carpet and doing their thang. But there was one group of talented men in particular that were nowhere to be found, and that's K-pop group BTS. That's right, I'm talking about Jungkook, Jimin, V, Suga, RM, Jin, and J-Hope, because they are crushing life right now and I personally was really hoping to see them and their perfectly patterned suits tonight. So, why wasn't BTS at the People's Choice Awards? Well, they're on the other side of the world doing pretty big things, so they couldn't make it due to timing.
UPDATE: The boys sweeped y'all! Despite being all the way on the other side of the globe in Japan preparing for their Love Yourself tour stops in Tokyo, the boys of BTS still managed to take home all four PCAs they were nominated for. The boys filmed a thank you message that aired during the show in which the boys thanked fans for their support. "Thank you so much!" RM began their pre-recorded acceptance speech. "We're so honored to win the Group of 2018! We just finished touring America this last month and can't wait to come back and see you guys. Thank you ARMY. Thank you all ARMY for voting for us and shout out to BigHit Entertainment and E! People's Choice Awards. Thank you so much!"
PREVIOUSLY: If you obsessively stalked the performance lineup (like me), then you'd know that BTS wasn't on the list of the evening's performers, so I had a hunch that they wouldn't be making an appearance on the red carpet, either. Unfortunately, I was right — but they have a pretty good reason for it, so I'll try and let it go... this time.
The 2018 PCAs are happening just days before BTS starts the final, sold-out leg of BTS World Tour: Love Yourself, which takes place in Tokyo on Nov. 13. Considering they are halfway around the world for their tour, it was probably too much of a stretch for them to come back to America just to partake in the PCAs for a few hours to then ultimately fly back to Japan to prep for their two-night show at the Tokyo Dome.
If you refuse to believe that they aren't at the PCAs, then maybe check out this video of the BTS bots arriving in Japan for proof:
Hopefully, this gives you the closure you need.
But just because they aren't at the awards physically doesn't mean that their nominations are any less significant. The BTS boys are nominated in a whopping four categories at the PCAs: Song of the Year and Music Video of the Year for "Idol," a single from their August album Love Yourself: Answer, Group of the Year, and finally, Social Celebrity of the Year. And remember, the BTS Army is a force to be reckoned with, and the PCAs are all about fans, so there's a good chance that one of their nominations will yield a win.
If you're hoping for more BTS in your life, you're very much in luck, because recently it was revealed that BTS has extended their contract with Big Hit for another seven years. Their label, Big Hit Entertainment, released a statement regarding the news, which read in part,
It is our philosophy that we should cater the best to artists who's achieving an unprecedented global success ... After the thorough discussion with seven members of BTS, we decided to renew the contract before the world tour to ensure more stable, long-term activities.
Then, in an emailed statement on Wednesday. Oct. 17, BTS thanked Big Hit founder, Bang Si-hyuk, for showing them unwavering support.
The statement read in part,
We respect our mentor, producer [and Big Hit founder] Bang Si-Hyuk who has continued to show us a vision for our future from even before debut and have helped us form our perspective of the world and music. With Big Hit Entertainment's support, we'll continue to strive to give our best for fans all around the world.
So don't worry, fam! They may not be walking the red carpet tonight, but they'll be around to amaze their fans for years to come.