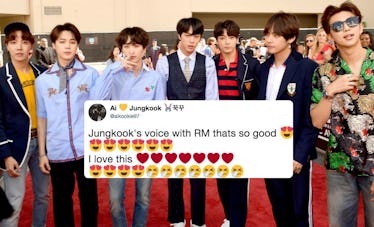 BTS Just Dropped A New Song With Steve Aoki That's Even Better Than "Mic Drop," Seriously
Matt Winkelmeyer/Getty Images Entertainment/Getty Images
ARMYs assemble! It's about to get serious. In a surprise announcement on Tuesday, Oct. 24, musician and DJ Steve Aoki announced a new collaboration with the K-pop group phenomenon BTS. Aoki shared a brief tweet letting fans know they had exactly 24 hours to prepare themselves for what was certain to be a hit. Now it's Oct. 25 and the song "Waste it On Me" is here and fans immediately went wild. Not for nothing, BTS and Steve Aoki's "Waste it On Me" lyrics will literally have you wasting all your time listening to this track.
The track is the first song BTS has dropped since the release of "Love Yourself: Answer," which topped the Billboard 200. The album featured two tracks produced by Aoki, "Mic Drop" and "The Truth Untold," so these artists are no strangers to working together.
To add to the hype-train, just one day prior to Aoki's announcement, BTS' leader RM dropped his mixtape, Mono. So even if ARMYs wanted to catch their breath, they couldn't.
Aoki's tweet said, "surpriseeee we're back! got a new collab w/ my brothers @BTS_twt coming at u tomorrow!! who wants to hear it now?? Tweet #WasteItOnMe to unlock a preview!"
Obviously, your girl tweeted to listen. The teaser included 40 seconds of the new song, plus a handful of lyrics stamped over techno colors and graphics. Billboard called it an "ambient EDM track." Fans also noticed the teaser included only English lyrics. Turns out, the whole song is in English — a first for BTS.
Check out the whole bop below!
Here is a closer look at the lyrics:
VERSE 1: You say love is messed up / You say that it don't work / You don't wanna try, no, no / (You don't wanna try, no, no) / baby, I'm a stranger / To heartbreak and the pain of / Always being let go (Always being let go)
PRE-CHORUS: And I know there's no making this right, this right / And I know there's no changing your mind, your mind / But we both found each other tonight, tonight / So if love is nothing more / Than just a waste of your time?
CHORUS: Waste it on me / Waste it on me / (Waste it on me) / Tell me why not waste it on me / Waste it on me / (Waste it on me) /Baby why not waste it on me /Waste it on me / (Waste it on me) / Tell me why not waste it on me / Waste it on me / (Waste it on me)
VERSE 2: So we don't gotta there / Past lovers and warfare / It's just you and me now (Yeah, yeah) / I don't know your secrets / But I'll pick up the pieces / And pull you close to me now
VERSE 3: Don't you think there must be a reason / Yeah, like we had our names / Don't you think we got another season that/ Come after spring / I wanna be your summer / I wanna be your wave / Just treat me like a comma / I'll take you to a new phrase / Yeah come just eat me and throw me away / If I'm not your taste, baby waste / Waste it on me
Pretty fun, right? Are you ready to waste the rest of your life listening to Jungkook's smooth vocals? And RM clearly invented English, amirite?
While some fans expressed disappointment over the fact that the track only seems to feature actual vocals from Jungkook and RM, the ARMY is blown away by how good this track is overall. Plus, some ARMY seem to have uncovered writing credits that suggest Jimin also participated in writing the lyrics.
Of course, fans could have guessed another Aoki and BTS collaboration would be a banger. Their collab "Mic Drop" was the first Korean song to hit number one on U.S. iTunes, further helping to rocket BTS and K-pop into American fans' stratospheres. Now, it feels like the whole world can't turn their music off.
I've been low-key trying to go get lunch for like two hours but can't stop listening to "Waste it On Me" on repeat. Being a mega-fan is exhausting, guys.