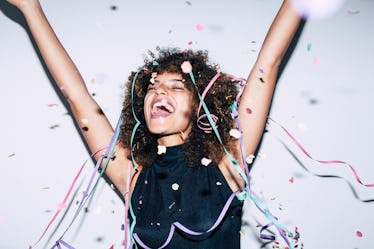 Why I Don't Want To Ring In 2018 With A New Year's Kiss
I rang in 2015 with a sloppy kiss from my then-boyfriend. Less than an hour after this supposedly magical moment, I was outside without a coat, chasing after said boyfriend in an unfamiliar neighborhood, while the temperature dropped well below freezing. Our first fight of the new year was one of our worst, and sadly it's the drama that I remember about that night, not the kiss. That's the year I learned that kissing on New Year's Eve is overrated.
I've spent my fair share of New Year's Eves in relationships, and I have had a few memorable midnight kisses... if having my high school boyfriend kiss me on the lips in front of his strict military parents counts as memorable. While it was just a quick peck, I was still pretty mortified. But when I decided to fly to Los Angeles for New Year's Eve last year, it wasn't to be with a guy. I was totally single and visiting my girlfriend from college for the holidays.
At the start of the night, my friend and I got ready to go to Enchanted: Forest of Light, an interactive, outdoor light show at Descanso Gardens. While she picked out her clothes, I donned a velvet romper the color of sangria, and topped off my festive outfit with a sparkly gold "Happy New Year" headband. I forced my friend to wear a matching silver headband, naturally. I've included a picture of the outfit (and the only boys I kissed that night) below, just in case you were curious.
After we walked through the gardens, we met up with a few other girls. I spent the night exploring Los Angeles with old friends and new acquaintances — all of whom were women. Some of us were single and some in relationships. We pregamed with pink wine and took plenty of selfies. Around eleven, we ended up in a bar that was only slightly packed and had no cover. Not to make this even more like a scene from Mean Girls, but we did actually order cheese fries to the table.
A few minutes before midnight, the servers passed around complimentary servings of champagne for us all to toast to the New Year. Everyone in the place yelled out "ten, nine, eight..." and I wasn't thinking about any guy. "Seven, six, five..." I didn't feel the need to kiss someone at midnight. "Three, two, one..." Being on Pacific Time, it was strange for me not to see the confetti raining down on TV like I would on the East Coast. "Happy New Year!" I clinked my plastic cup against my friend's and emptied it in one sip.
Sure, couples were kissing all around me, but what might have been a bittersweet moment tasted as perfect as the crisp champagne hitting my tongue. While so many other years had been about having someone to kiss, this year was solely about female friendship. And at the moment the clock struck twelve and it became 2017, everything was sparkling, bubbly, and just the right amount of sweet.
For me, the new year has become about possibility. I didn't have a Troy and Gabriella moment during the NYE countdown, but I still managed to do plenty of kissing throughout the rest of the year. I spent my most recent New Year's Eve with the people I love, and their company was way better than any sloppy kiss has ever been.
Check out the entire Gen Why series and other videos on Facebook and the Bustle app across Apple TV, Roku, and Amazon Fire TV.
Check out the "Best of Elite Daily" stream in the Bustle App for more stories just like this!