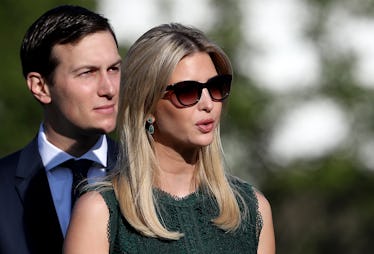 The Reason Ivanka Trump Is In India Is Making People Angry
Win McNamee/Getty Images News/Getty Images
Her father just returned from a tour of Asia, and now it's Ivanka Trump's turn to represent the U.S. on the world stage. President Donald Trump's daughter Ivanka Trump is in India this week for the Global Entrepreneurship Summit (GES), where she'll speak about women's empowerment. It's causing a lot of heads to turn, and not in a good way.
From Nov. 28-30, the U.S. and Indian governments are co-hosting the GES 2017, set in Hyderabad in southern India. The summit, which is now in its eighth year, is themed "Women First, Prosperity For All." The annual gathering bills itself as a convention of investors, supporters, and entrepreneurs, and this year, the aim is to empower women to gain skills and secure support for their ideas. Per the State Department, Trump, who is leading the U.S. delegation, will be speaking at events Tuesday and Wednesday focusing on women's skills development, workforce participation, and entrepreneurship.
"Women still face steep obstacles to starting, owning and growing their businesses. We must ensure women entrepreneurs have access to capital, access to networks and mentors," Trump said Tuesday at a GES event.
Yet Trump's starring role in the summit is causing a lot of backlash. Criticism of Trump's arrival in India began a few weeks ago. On Nov. 8, it was reported by the Indian Express the city had already begun clearing out its homeless to beautify Hyderabad for her visit, with some 6,000 beggars in total being taken to prison rehabilitation centers.
The Washington Post reports that stray dogs seem to have vanished from the streets, and that the city also spent $.185 million just on road repairs prior to the visit. The improvements prompted some locals to express appreciation for the first daughter's visit was resulting in much-needed maintenance.
It also appears that Hyderabad underwent more pleasant preparations for Trump's visit, painting a freeway bridge in rainbow colors that she would see when she passed by, according to the Post.
But by far, the biggest thorn in Trump's side this trip is criticism over her role in promoting women's empowerment when her own clothing brand has been found to do the opposite.
In July 2017, the Post detailed in a lengthy report how factory workers making Ivanka Trump brand garments worldwide — India included — were receiving low pay, in some cases so underpaid they couldn't afford to care for their children. This news followed a June report that workers making Trump's shoes in China were being abused. G-III, an apparel company that manufactures Trump's products, has declined to disclose which particular factories it employs for production.
Abigail Klem, president of the Ivanka brand, said in a statement in June that "branded products have not been produced at the factory in question since March, the integrity of our supply chain is a top priority and we take all allegations very seriously."
"Ivanka Trump is set to promote women empowerment in India. Yet she won't talk about female workers who make her clothes here for $4 a day," tweeted Washington Post India Bureau Chief Annie Gowen.
Trump, serving as an advisor to her father, no longer helms the day-to-day operations of the company. Yet she is still largely being held to the measuring stick. A group of labor rights activists this month wrote a letter to Trump urging her to use her position to improve the standards for workers worldwide, joining a larger chorus of critics who argue she should be doing more to support them.
"Ivanka Trump says in India speech, 'We are committed to supporting women, and men, who work, inside and outside of the home.' Says nothing about the women and men working to make her clothes," tweeted Post reporter Drew Harwell.
However, as an attorney for Trump told the Post earlier this year, she "has been advised that she cannot ask the government to act in an issue involving the brand in any way, constraining her ability to intervene personally."
But for the moment, if the criticism has gotten to her, she's not letting it show on her social media profile. She's been posting about the summit on Instagram and Twitter since last week.
What Trump will do with all this criticism is anyone's guess. As a self-proclaimed advocate for women's rights and empowerment, making those chief items on her political agenda, it's difficult to imagine she won't have to reckon with her own company's role in mistreating female employees.