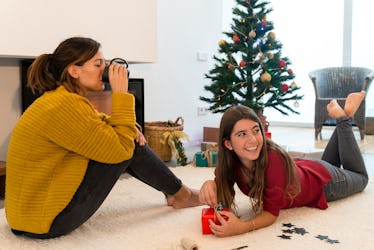 9 Annoying Holiday Moments You'd Only Be Able To Endure With Your Sister By Your Side
We all know the holidays can be seriously magical when the family comes together, but this time of year can also be super stressful. You love your family and cherish every holiday tradition you have, but sometimes, all of it can be a little too overwhelming. Luckily for you, if you're blessed with an amazing sister, she most likely totally gets all of your feels. There are a few reasons why having a sister during the holidays is a blessing, and you're beyond thankful to have her right by your side.
She helps you endure the awkward moments, the boring traditions, and all of the ways the family you absolutely love can totally annoy you at times. You honestly don't know how you would survive without her there. You naturally make each other laugh through it all, especially during these nine bizarre holiday moments families are totally guilty of this time of year. Sure, it's the most wonderful time of the year, but it can also be a lot to handle, so having your sis there is the greatest gift you could ever receive. You're eternally grateful, so you better be thanking her on Thanksgiving, and giving her a large gift in December, because she deserves it for keeping you sane.