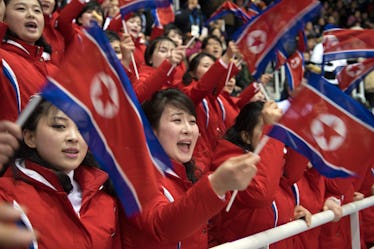 North Korea's Olympic Athletes Are Under Close Watch, Report Says
Carl Court/Getty Images News/Getty Images
It came as a shock to much of the world when North Korea announced that it would send athletes from the state to compete alongside South Korean athletes in the 2018 Winter Olympics in PyeongChang. Considering how strict the nation's regime is on its citizens (from what we know), I can't help but wonder how these North Korean athletes might feel to be out of their homeland and thrust into a capitalist, modern, and free nation. Wouldn't these athletes feel compelled to break free from the oppressive rule of Kim Jong-un? Why don't the North Korean athletes just defect?
Well, as it turns out, even if these athletes are beyond North Korea's limits, they're apparently still under the same close scrutiny that they experience within their country's borders. A report conducted by CNN reveals that all of the North Koreans that have traveled down to PyeongChang for this year's Winter Games are under close, close surveillance. So much so that there isn't really a viable window of opportunity for someone to defect, even if they wanted to.
According to Han Seo-hee, a former North Korean cheerleader who defected in 2006 and now lives in South Korea, "A North Korean group sent abroad is always composed of three parties. Party members, security members and administrative members." Those security members that Han is referring to are responsible for the 24/7 monitoring of all North Korean citizens partaking in the Olympic games this year.
When I say 24/7 monitoring, from the looks of this report I mean actual 24/7 monitoring. According to a former North Korean police officer that spoke to CNN (who remained anonymous in order to protect his family), North Korean team members aren't even allowed to use the bathroom alone. Yeesh.
And on top of that, any North Korean citizen that sees signs of suspicious behavior is required to report it to the proper authorities. Said the former police officer, "Not only the leaders but also the rest of the performers will be punished for not reporting suspicious signs of a defector." Can you imagine being under that close of a watch? It would be hard for me to fully enjoy the grandiosity that is the Olympics if I felt like someone was always watching.
It was a little surprising that North Korean athletes were even sent to the Olympics in the first place.
Not because the country has never sent any of its athletes to competitions abroad before, but because of the contentious political predicament the country's leader Kim Jong-un has found himself in — particularly when it comes to his ongoing conflict with the United States and President Donald Trump. The ever-increasing threat from Pyongyang (by way of a multiple reported missile test launches) has not allowed for the world to feel at ease.
Tensions were running high at the opening ceremony of the Olympic games as well. In a surprising plot-twist, Vice President Mike Pence was seated in the same box as the delegation from North Korea, which included Kim Jong-un's sister, Kim Yo-jong. And when it came time for the North Korean athletes to enter the main stadium, Pence made the ironic decision to not stand — only increasing the already mounting tension that was palpable in that box.
But during the opening ceremony at the Winter Games this year, there was a small moment of hope for the future when North Korean athletes marched into the main stadium alongside their South Korean neighbors, all while waving unified North and South Korea flags. Marching under the Korea Unification flag, which bears the full Korean peninsula in pale blue over a white background, was a rare sight and alluded to the potential for peace between the two nations.
But despite North Korea's attempt to seemingly ally themselves with their South Korean neighbors for the Winter Olympics, there is still a clear division between the citizens of these two very different countries. If North Korean athletes and cheerleaders need to be surveilled on a 24/7 basis as to prevent anyone from defecting (as this report suggests), you can't help but think something is wrong here.