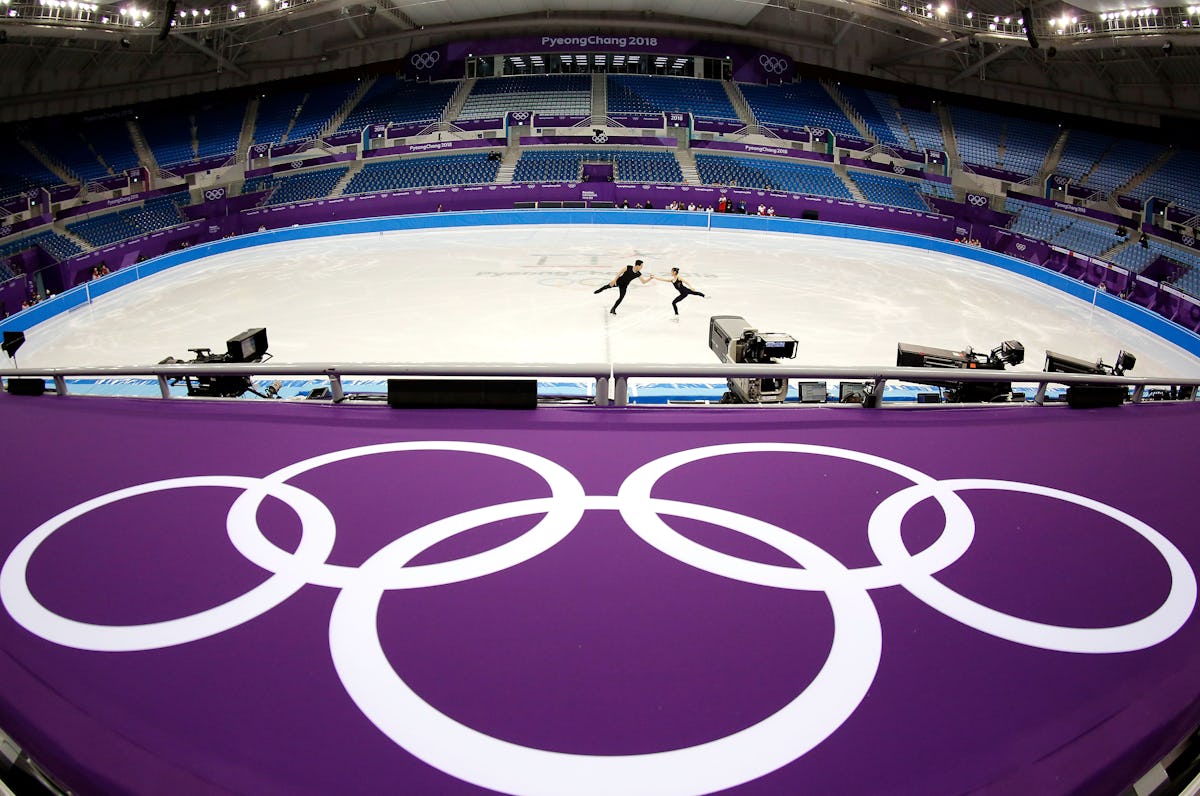 North & South Korea Marched Together At The Olympics & Here's Why It Matters
Jamie Squire/Getty Images Sport/Getty Images
Regardless of how much you know about the division between North Korea and South Korea, you're probably aware of their deep-rooted tension. Because of their ongoing discrepancies, you're most likely wondering why North Korea and South Korea are walking together at the 2018 Olympics Opening Ceremony... and honestly, you're probably not the only one who's perplexed.
South Korean officials shocked Winter Olympics fans (and pretty much everyone, everywhere) when they announced that South Korea and North Korea would be walking under the same flag during the Winter Olympics opening ceremony on Friday, Feb. 9. Both countries will also have a joint North and South Korean women's ice hockey team, which will begin competing in early February. Leading up to the games, both North and South Korean skiers have even been training together at a resort in North Korea.
Additionally, according to Time, North Korea will also be sending over around 230 fans to cheer on its athletes from the sidelines. A small group of North Korean athletes and supporters will also be going to the Paralympics Games.
Per CNN, Korea's unification flag depicts North and South Korea's silhouette in blue, in addition to surrounding islands. Apparently, this isn't the first time both countries have marched together... albeit, it's a rare sight to see. North Korea and South Korea also unified to march under the flag in the 1991 World Table Tennis Championships, as well as during the 2006 Winter Games in Turin, Italy.
According to CNN, the mid-January announcement about North Korea and South Korea's unification was the latest breakthrough since the countries began talking early that month. Before that, communication between both Koreas had been broken. And even more astonishing, according to the New York Times, the two countries never signed a peace treaty "to end the 1950-53 Korean War." Although marching together in the 2018 Winter Olympics seems like a good sign (and while military tension has seemingly decreased), some people are still iffy.
Some South Korean allies are worried that Pyongyang has a different motive, and think that the capital is using communication between the two countries to buy time and pursue its weapon program. Rex Tillerson, the U.S. Secretary of State, voiced his suspicions at a summit in Vancouver, Canada on Tuesday, Jan. 16. He said of America's relationship with North Korea, "The pressure campaign will continue until North Korea takes decisive steps to de-nuclearize." Tillerson also stated that "We cannot be complacent."
Japan, Canada, and the United Kingdom also attended the summit. Japanese Foreign Minister, Taro Kono, voiced his reservations over North Korea's latest talks with South Korea. Kono said,
I believe that North Korea wants to buy some time to continue their nuclear and missile programs. It's not the time to ease pressure towards North Korea.
China, on the other hand, condemned the Vancouver talks and shared a different outlook on the communication between the two countries. China's Foreign Ministry spokesman, Lu Kang, feels that accusing North Korea of ulterior motives could really just make matters worse. Kang said,
[Such thinking] will only lead to split in the international community and harm the joint efforts that could properly solve the nuclear issue on Korea peninsula.
Basically, nobody is quite sure what to expect for North Korea and South Korea after the Winter Olympics, and we might not know what will come of their opening ceremony and ice hockey unification until after the games are over. Regardless, according to South Korea's Foreign Minister, Kang Kyung-wha, the talks they had were a "significant step," despite upcoming challenges to denuclearize North Korea. We're all just hoping to ease relations longterm, if possible.
Check out the entire Gen Why series and other videos on Facebook and the Bustle app across Apple TV, Roku, and Amazon Fire TV.