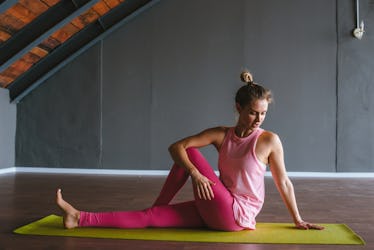 If Exercise Stresses You Out, Here Are 5 Things That May Be Making Your Workouts Harder
From runner's high, to sweat-infused euphoria, to all the amazing feel-good endorphins that exercising can bring, once you get bitten by the workout bug, it can do amazing things for the stress we all feel in our day-to-day lives. But what if you literally start dreading going to your favorite workout class, and you're no longer basking in that post-workout glow that everyone knows and loves? After a few sh*tty workouts, you might start to wonder: Why does exercise stress me out? Isn't it supposed to do the exact opposite?
It's strange because an increased heart rate, profuse sweating, and faster breathing are all indicative of, well, TBH, a full-blown panic attack. But these are also all the things that make a good ol' sweat sesh awesome, and they actually help to relieve stress in most situations. According to Livestrong, just one gym session can help to soothe symptoms of anxiety. However, there are a few factors that can lead your sacred time in the #TempleOfGains to have adverse effects on your racing mind and knotted up shoulders. Here are five little things in your workout routine that may be making your time at the gym more stressful than it needs to be.