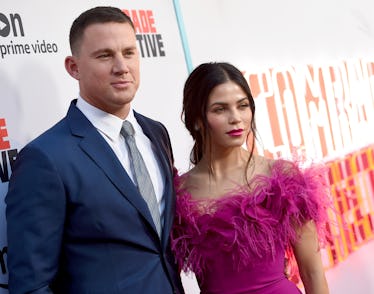 Here's Why So Many Celebrity Couples Split Up, According To Experts
Kevin Winter/Getty Images Entertainment/Getty Images
It seems like every other day, we're reading (or rather, mourning) about yet another celebrity couple that once seemed so in love splitting up. Whether that's Channing Tatum and Jenna Dewan (I was shook) or Ariana Grande and Pete Davidson (though, TBH, I think we all saw that one coming), these are couples who seem to have it all but can't quite make the relationship work. And it feels like it happens all the time. Why do so many celebrity couples get divorced or break up? Is there some sort of celeb curse we're not aware of, or does it just seem to happen more often in celebs because their lives are so public?
"Celebrity couples are absolutely more likely to divorce or split up," Alessandra Conti, celebrity matchmaker at Matchmakers In The City, tells Elite Daily. "A lot of high-profile people are quick to jump into relationships," she says, adding, "the saying 'it's lonely at the top' has a lot of truth to it." She says the reason celebrities are often drawn to each other is because, "when a celebrity reaches a certain level of notoriety, it is tough for them to connect with new people because they are concerned with what that person's motives are." So they chose to date someone "in a similar place in their careers in the spotlight," because, as Conti says, that offers a level of trust they might not be able to find otherwise.
That makes sense, but it doesn't explain why they split up so often. As it turns out, what brings the couples together is often the cause of the relationships ending, either directly or indirectly. Here are some of the reasons celebrity duos rarely go the distance, according to experts.