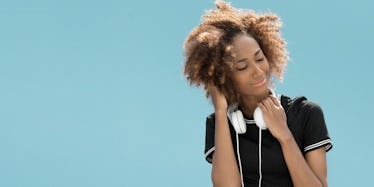 This New Research Explains Why You Can't Stop Listening To Your Favorite Throwback Songs
When I'm at the gym with my headphones on (killin' the game, might I add), you better believe I have some throwback Britney Spears songs blasting through my eardrums — that sh*t gets me going. Both Britney and T-Swift originals will always remain on my ~beast-mode~ workout playlist, no matter how many great new songs come out. TBH, I'm not really sure why I listen to the same music all the time during my workouts, but I'm not at all ashamed to say the majority of my go-to playlist consists of fire throwback jams that will never, ever get old. Judge me if you must, but I'm willing to bet you do the same exact thing.
If you feel me on a spiritual level, and you've just come to the realization that you haven't updated your workout playlist either since, like, 2010, a new survey from the music streaming service Deezer revealed exactly why so many of us listen to the same songs over and over again.
According to the survey, the results of which were shared directly with Elite Daily over email, the age at which you discover the most new music is 24 years old, and after that, you basically stop seeking out new jams altogether.
So, uh, does this mean everyone peaks at 24, or nah?
Eh, well, that might be what it means. In the survey, 1,000 people from the UK were asked about the types of music they listen to and what genres they prefer, and after collecting the responses, the survey found that most people generally stop discovering new music at around 30 years old. I don't know about you, but I'm weirdly content with this information, because I think I'll always get pumped up by listening to some Backstreet Boys or NSYNC, you feel me?
But if you're low-key wondering why your interest in discovering new music seems to peak at age 24 and then goes downhill from there, the reason is actually pretty straightforward. According to Business Insider, the survey participants said it's not really a lack of interest in new music that's led them to listen to the same jams over and over; it's simply because everyone's busy AF and doesn't have time to update their OG playlists. More specifically, 19 percent of people surveyed said they stopped trying to find new songs they actually liked because they simply feel overwhelmed by the amount of choices available to them (#relatable). Meanwhile, 16 percent of those surveyed said they're too sidetracked by their demanding jobs to find new music, and 11 percent said they're too busy caring for young children. Bottom line: Life gets in the way of a lot of things, like happy hour plans and yoga classes, but who knew so many of us are so busy that we don't even have time to discover new music?
Real talk, though, sometimes it's not even an entire playlist of songs that you're returning to over and over.
Have you ever put one song on repeat over and over again, until it finally gets old weeks (or maybe even months) later?
Confession: I'm personally guilty of having Justin Bieber's "Sorry" on repeat for an entire workout. I'm not exactly proud of that one, but hey, I'm just being honest, y'all.
If you know what I'm talking about, rest assured, there's a reason why you and I do this so often: Elizabeth Margulis, author of the book On Repeat: How Music Plays the Mind, explained in an interview with Mic that people will happily listen to a single song on repeat sheerly because of the sense of anticipation it instills in the brain. As the listener, this experience makes you feel like you're singlehandedly creating the music with your very own mind. It's called "virtual participation," Margulis told Mic, and it makes sense when you think about it, right?
I guess the point here is that, if you're over 24 years old, then you should probably go ahead and cozy up to your go-to workout playlist, because odds are, you're going to be doing squats and sprints to those same songs for the rest of your life.