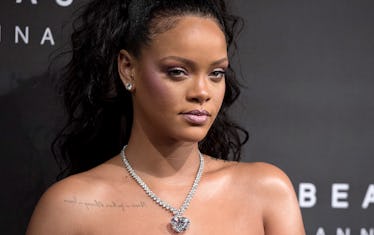 Rihanna Broke Up With Her Boyfriend For The Most Relatable Reason Ever
Chris J Ratcliffe/Getty Images Entertainment/Getty Images
"Didn't they tell you that I was a savage" is one of Rihanna's many lines that always reminds us of just how badass and unapologetic the pop star is — but to be completely honest, I had no idea that lyric would apply to her latest relationship with billionaire businessman Hassan Jameel. Apparently, the duo split — but why did Rihanna breakup with Hassan Jameel? The answer is more fierce and relatable than some of you can probably ever imagine.
On June 1, MediaTakeOut News reported that the Fenty Beauty mogul ended things with her beau of more than a year simply because she "gets tired of men sometimes." Elite Daily reached out to Rihanna's team for comment on their reported breakup and did not hear back by the time of publication. But whether or not that's the actual reason for their apparent breakup, I feel you, Ri.
"Rihanna and him were together for a while," a source dished to the outlet. "It was a good relationship, but now it's over. Of course Rihanna broke his heart. That's what she does: break[s] men's hearts." There was nothing wrong their relationship either, according to the source. Rihanna just "got tired of him. She gets tired of men sometimes."
You mean to tell me that her 2010 ballad "Complicated" was a self-fulfilling prophecy this entire time?! Wow, I'm shook.
Fans are especially heartbroken over the report because Rihanna seemingly just addressed her beau for the first time in a May cover story interview with Vogue. She told the publication that she only spends time with people who are worth it and, although she didn't mention Jameel's name, my guess is that the comment was all about him. "I used to feel guilty about taking personal time, but I also think I never met someone who was worth it before," she told the magazine. "Even mentally, just to be away from my phone, to be in the moment, that has been key for my growth. Now, when I come to work, I'm all in. Because before you know it, the years will go by. I'm glad I'm taking the time. I'm happy."
Given how recent and refreshing her comments were, some Twitter users were super upset by the rumored breakup.
One person wrote they don't believe in love anymore.
Others were unbothered, as many of them have been waiting for her to reconcile with her ex-boyfriend, Drake, anyways.
There's no telling how official (or unofficial) this rumored split is, but there's one guarantee: Rihanna and Drake will probably not get back together again. In the aforementioned interview with Vogue, the Barbadian singer also told the outlet that she was kind of turned off by Drake after he declared his love for her during the VMAs in 2016. She confessed:
The VMAs is such a fan-focused awards show, so having that energy around me, and knowing the people who had received the award in the past, made it feel like a big deal. Waiting through that speech was probably the most uncomfortable part. I don't like too many compliments; I don't like to be put on blast.
When asked about her current relationship with Drake, Rihanna added, "We don't have a friendship now, but we're not enemies either. It is what it is."
Yeah, sorry guys, but you might not wanna hold your breath on that one.
Anyway, if the reports are true, surely Rihanna and Jameel will bounce back from each other in no time. And eventually, if all goes well, she'll move on and we'll all have a new couple to obsess over. Sound good?