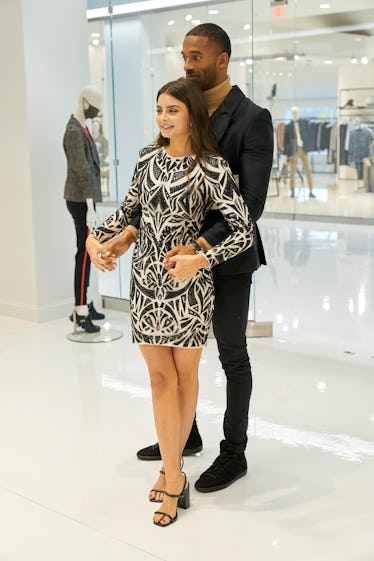 Matt Revealed Where He & Rachael Really Stand After The 'Bachelor' Racism Controversy
ABC/Craig Sjodin
For better or worse, Matt James' season of The Bachelor was one to remember. After 24 seasons, he became the first-ever Black Bachelor. But although viewers got to witness his journey to find love, the season also led to a reckoning about the show's problematic handling of diversity and racism over the years. While Matt's season was airing, fans (and Matt) learned troubling things about one of his contestants, Rachael Kirkconnell. Although the couple finished out the season together, after the ongoing controversy surrounding Rachael came to light after filming, they ultimately called it quits. So, why exactly did Matt James and Rachael Kirkconnell break up, and when did they part ways? Things got messy, fast.
Rachael was a clear frontrunner throughout the season; she and Matt developed a close connection and even admitted they were falling for one another by Episode 5. In the March 15 Bachelor finale, Matt and Rachael made the unconventional decision to continue dating instead of getting engaged so they could continue exploring their budding romance without the pressure of an impending wedding.
However, once the season began airing, their relationship became much more complicated. Shortly after The Bachelor premiered in January, concerning allegations about Rachael's past behavior surfaced on TikTok. On Feb. 5, pics of Rachael at a 2018 plantation-themed college party started circulating. The 24-year-old posted an Instagram apology for the photos on Feb. 11, admitting her "ignorance was racist." On Feb. 22, Matt released his own statement calling the photos of Rachael "incredibly disappointing."
During the "After the Final Rose" special (which aired directly after the finale), Matt revealed to first-time to guest host Emmanuel Acho that he broke up with Rachael shortly after he learned about the plantation party photos. "You hear things that are heartbreaking, and you just pray that they're not true. And when you find out that they are, it just makes you question everything," he told Acho. "As someone who grew up in the South, it takes me to a place that I often try not to think about."
Matt acknowledged that Rachael needed time to do anti-racism work on her own, adding, "As Rachael acknowledged in her apology, there's a lot of work that needs to be done. I have to take a step back ... and I'm looking forward to seeing her put in that work."
In her own separate interview, Rachael admitted to Acho that she didn't realize the photos were problematic until recently, and was initially blindsided by Matt's decision to end things. "Once that initial relationship went away, I thought about how strong our relationship was. So for him to end things, he must have been very, very hurt by everything," she said, adding that that while she had lost "the love of my life," she also felt "like I finally do know what real love feels like."
Then it was time for Matt and Rachael to see each other for the first time since their breakup, and it was rough to say the least. Although Rachael told Matt she signed up for the show because of him and couldn't imagine falling in love with anyone else, Matt didn't seem to reciprocate her still-strong feelings for him.
Matt temporarily seemed speechless when faced with confronting Rachael, but he eventually told her, "The most disappointing thing for me was having to explain to you why what I saw was problematic, and why I was so upset. That's why it's so problematic ... When I questioned our relationship, it was on the context of you not fully understanding my Blackness and what it means to be a Black man in America, and what it would mean for our kids. And it broke my heart, because this is the last conversation I thought we'd be having. I didn't sign up to have this conversation."
When Acho asked if Matt and Rachael wanted to share one final embrace before leaving the stage, the pair hesitated and things left off just as uncomfortable as they began. So, Matt and Rachael may have committed to each other at the end of The Bachelor filming, but it's clear there is a lot of individual work and healing that needs to be done.