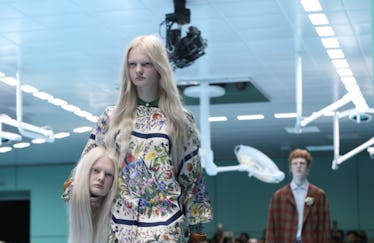 Gucci Sent Models Down The Runway Holding Their Own Heads & I'm Still Scratching Mine
Gucci
No, it wasn't meant to be a reference to the Queen of Hearts from Alice in Wonderland and her infamous line, "Off with their heads!" It wasn't a nod to King Henry the VIII, famous for beheading his wives, either. Why did Gucci send heads down the runway, you ask? (Yes, HUMAN heads.) Get ready, because the answer is actually a lot to unpack.
If you've followed Gucci's transformation since Alessandro Michele took over as creative director in January of 2015, then you know the brand has taken a turn for the wacky, the weird, and the wonderfully unique. Heavily inspired by film, history, and the idea that personal style should be just that: personal, Michele has designed collections referencing the Renaissance, ancient Greece, the '80s, and everything in between. Anything he touches turns to sartorial gold.
His audacious color palettes, penchant for the absurdly ornate, and brilliant imagination have led him to become the most-loved designer du jour, and it's accepted — reveled in! — that none of his collections will ever be boring. But for fall 2018, he's truly outdone himself with his headiest collection yet. Literally. It's a fashionable freak show, and I love every piece of it.
The setting of the Gucci show at Milan Fashion Week was like something out of a creepy sci-fi film. Operating tables covered in hospital green sheets sat underneath spidery LED lights in the middle of the room, while rows of plastic chairs lined its walls. As described by Gucci on Instagram, "The concept reflects the work of a designer — the act of cutting, splicing, and reconstructing materials and fabrics to create a new personality and identity with them. The materials used are typical of an operating room and the environment around it…" Welcome to Gucci's franken-lab.
It was the perfect setting for what was about to hit the runway. Just as the clothing was a splicing together of cultures, eras, textures, and styles — defining one visual theme is impossible — the models were also creations of a mad sartorial scientist. A platinum-haired beauty opened the show wearing a combination of floral, plaid, and sneakers. A normal sight, at a Gucci show, if she weren't carrying a replica of her own head. Spine chillingly realistic, the humanistic accessory was a shocking replacement for the purse that would typically accompany the look.
The strangeness continued: a second model took to the runway with his own head in hand (hilariously, the internet compared the red headed duo to Fred and George Weasley from Harry Potter); another walked out with a realistic third eye on her forehead; another was carrying a dragon puppy. The photos of the show immediately made me think of Game of Thrones, though it was far from Michele's inspiration. According to the show notes, "Gucci Cyborg is post-human: it has eyes on its hands, faun horns, dragon's puppies and doubling heads. It's a biologically indefinite and culturally aware creature. The last and extreme sign of a mongrel identity under constant transformation. The symbol of an emancipatory possibility through which we can decide to become what we are."
Essentially, the "Gucci Cyborg" is an ever-changing creature who defies identity and challenges society's role in the formation of the self. It's a symbol of the idea that we, ultimately, hold the power to choose who and what we want to be, to splice together different parts of ourselves to create our own whole. To me, this concept is beautiful. Like Michele's clothing, it centers on the idea of individualism and conveys that we are all walking multitudes.
While I certainly don't know if I'll be hitting up Makinarium, the Rome-based collective of artisans who created the heads, for my own mini me, I will say that the Gucci show is my favorite thus far, and is one I will probably never forget. When creatives from all niches come together to create truly impactful and beautiful social commentary, it's magic.