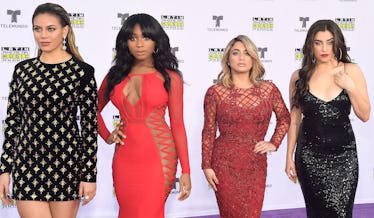 Lauren Jauregui Opened Up About Why Fifth Harmony Broke Up & It's So Sad
Fifth Harmony announced the group was going on an indefinite hiatus on Monday, March 19. The group's breakup reminded a lot of fans of One Direction's breakup in 2016, seeing as both of the groups' respective splits happened after one member left the group (Zayn Malik left 1D in 2015, and Camila Cabello left 5H in 2016), and the remaining members of the groups announced their split about a year after. So why did Fifth Harmony break up? Lauren Jauregui opened up about the split to Playboy in an interview published on Monday, March 26.
She told the outlet that being part of a group and becoming successful at such a young age affected their individual artistry. "We tried our best to be ourselves," she said, "[but] we were also adolescents. So, you have to think about who you were at that age and being thrown in front of cameras."
Jauregui continued,
When you're really disconnected from who you are and you're ashamed of it, you can write and tell a story, but you can never really tell your story. That's what separates a lot of artists from others — the connection.
It sounds like one of the main reasons behind Fifth Harmony's breakup was that they felt they could no longer grow individually while still being in a group. They clearly are ready to move on and pursue their own work. Jauregui talked with Playboy about her plans for her solo career, and she says when she does eventually drop a solo album, it will be much different from her work with Fifth Harmony. But don't hold your breath for any confirmed album release date anytime soon — Jauregui's taking her time getting to know herself and what she wants her music to sound like. "Right now, I'm just exploring myself and getting in touch with myself creatively," she said. "It's definitely different than my work with Fifth Harmony. It's me."
The group tweeted the official statement. It read,
After six years going hard, non stop, we also realized that in order to stay authentic to ourselves and to you, we do need to take some time for now to go on a hiatus from Fifth Harmony in order to pursue solo endeavors. We are all very excited and grateful to be able to take this time to learn and grow creatively and really find our footing as individuals. In doing this we are allowing ourselves to gain new experiences, strengths and perspectives that we can bring back to our Fifth Harmony family.
The statement went on to thank Harmonizers for contributing to the group's six years of success. "Thank you for everything we have been able to build as Fifth Harmony," the statement said.
It continued, "With your love and encouragement we will continue to build on ourselves, support one another in everything we do, and keep making you proud, each other proud and ourselves proud."
Normani Kordei, another former member of Fifth Harmony, has been prepping for her solo career since before the group announced the split. The singer already released a collaboration with Khalid called "Love Lies," which was featured on the Love, Simon soundtrack. Kordei said in a March 26 interview with Beats 1 on Apple Music that the start of her solo music career will likely be about the things she has experienced personally over the last six years.
"Honestly, I feel like I've experienced a lot in the last six years," she said, "so I feel like just getting all of that out." She continued, "Whatever comes to mind, whatever I'm going through at the moment, I just want this to be an album that completely represents who Normani is—and for some people, it may be the first time." She also confirmed she's in the early stages of developing her "first full-length album," so keeps your eyes peeled for more announcements on that from Kordei.
It definitely looks like, at least from Lauren Jauregui's and Normani Kordei's points of view, the solo careers of the Fifth Harmony women are taking center stage over the possibility of the group reuniting.
This post was originally published on March 28, 2018. It was updated on Aug. 30, 2019 by Elite Daily Staff.