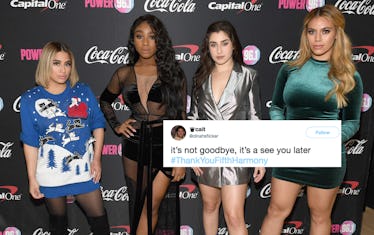 Fifth Harmony Announced They're Going On Hiatus & Fans Are Heartbroken
Fifth Harmony just pulled a One Direction and announced they have decided to go on a hiatus. Yup, you read that right: Fifth Harmony is over. (For now...?) The group released a statement on Twitter announcing they're officially going on a hiatus "in order to pursue solo endeavors," and Harmonizers on Twitter are so upset. The statement posted on Monday, March 19 says they're just going on a hiatus, but did Fifth Harmony break up? Will this hiatus ever end? Only time will tell that, but their fans are heartbroken. "Reflecting on the past six years since we started on X-Factor," the statement reads, "we've realized just how far we've come and we appreciate everything so much, more now than ever." It continues,
After six years going hard, non stop, we also realized that in order to stay authentic to ourselves and to you, we do need to take some time for now to go on a hiatus from Fifth Harmony in order to pursue solo endeavors. We are all very excited and grateful to be able to take this time to learn and grow creatively and really find our footing as individuals. In doing this we are allowing ourselves to gain new experiences, strengths and perspectives that we can bring back to our Fifth Harmony family.
They added a blurb thanking their fans for the years of support of love. "To our Harmonizers," the statement said, "Thank you for everything we have been able to build as Fifth Harmony. With your love and encouragement we will continue to build on ourselves, support one another in everything we do, and keep making you proud, each other proud and ourselves proud." They also confirmed that their upcoming shows will still go on as planned. So, if you have tickets to any of those performances, don't sell them. It could very well may be the last Fifth Harmony show you'll get to see. *Sobs.*
Fans are heartbroken over the news, and #ThankYouFifthHarmony jumped to one of the top trends on Twitter.
A lot of One Direction fans are tweeting their support for Harmonizers since they went through something similar in March of 2016. March doesn't seem to be a great month for music groups nowadays, seeing as Zayn Malik announced he was leaving One Direction on March 25, 2015, and One Direction's hiatus (read: breakup) officially began in March of 2016, although it was announced on Aug. 23, 2015.
One Direction stans are tweeting their support for Fifth Harmony following the group's announcement.
The announcement, which was also posted on Twitter, read, "After 4 and a half years of being together, we have been informed via her representatives that Camila has decided to leave Fifth Harmony. We wish her well." It continued,
You Harmonizers have been there with us since the beginning, you've supported us, you've rejoiced and cried with us, you've grown with us, and with your love and support, we will continue on. That being said, we are excited to announce that we will be moving forward with the four of us - Ally Brooke, Normani Kordei, Dinah Jane and Lauren Jauregui for our fans. We are four strong, committed women who will continue with Fifth Harmony as well as our solo endeavors.
...until March 19, 2018. Too soon?
Before announcing their hiatus, the remaining members of Fifth Harmony had made good on their promise to continue being part of the group while also branching out into solo work. Normani Kordei was featured on Khalid's "Love Lies" from the Love, Simon soundtrack, and Lauren Jauregui worked with Halsey, Steve Aoki, and Ty Dolla $ign. But the group has decided the time has come for them to focus on their solo careers.
Despite their statement saying this is only a hiatus, it doesn't seem likely that Fifth Harmony will get back together. "Hiatus," in music terms, is a group's way of breaking up the group without breaking the hearts of their fans too much. It seems like they're just trying to cushion the blow. I'd be shocked to see Fifth Harmony actually get back together one day, but hey, maybe I'll be proven wrong!