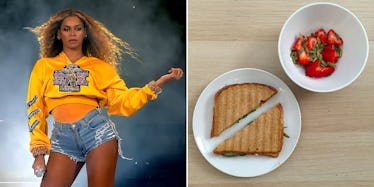 I Went Vegan Like Beyoncé For 2 Weeks & My Body Has Never Felt More Energized
Kevin Winter/Getty Images Entertainment/Getty Images, Courtesy of Kelli Boyle
You've been there before: You're scrolling through your Instagram feed when you see your favorite celeb post about their favorite new product — a face serum, vitamins that will make your skin brighter, or a specialty food service. You can't help but want to be like the stars, but are the products worth it? In Elite Daily's new series, I Tried, we put it all to the test. We're trying those products as well as celebrities' health and wellness tips, recipes, and life hacks. We'll do the leg work and tell you what living like your fave star is really like.
Beyoncé, my lord and savior, does this thing where leading up to a big performance or tour, she'll go vegan to fuel her body before it undergoes the stress and demands of performing. She uses a service called 22 Days Nutrition, which was created by her and JAY-Z's trainer, Marco Borges. She and JAY-Z first started using this vegan meal service in 2013, and she did the challenge again leading up to her 2018 Coachella performance. Being the stan I am, I went vegan like Beyoncé for two weeks and it was a surprisingly fantastic experience.
I mainly wanted to try this vegan diet to see how it would affect my skin. I have cystic acne that has been a beast to tackle, and while it was mostly clear in 2017, the acne came back in the early months of 2018 and I'm still working to clear it up. Most people with acne are aware that cutting dairy can help clear up skin, but I've been too stubborn to try it as of yet because, well, I f*cking love cheese. And creamer in my coffee. And did I mention cheese? Outside of dairy, skin responds well when you eat healthy fats and antioxidant-rich foods, and stay away from things like added sugar and grease (aka the Philly cheesesteaks I love so much).
Beyoncé and JAY-Z each did the vegan challenge for 44 days instead of 22 because their obsession with the number four knows no bounds, but 22 Days Nutrition offers a couple of different plans you can subscribe to. There's the package that includes meal delivery, which is what Bey and JAY do, costing between $484 and $627 for the full 22 days. (Beyoncé, I love you, but if you like it then you shoulda given me a gift card.) And there's the (much more affordable) package I chose that is $14 per month or $99 upfront for a full year. With this package, you're essentially paying for an extensive catalog of vegan recipes, as well as automated grocery lists to make your shopping easier. I tried the meal planner for a total of two weeks, but in just that short amount of time, I felt a significant change in my body.
How does the 22 Day Vegan Meal Planner work?
The 22 Days Nutrition website says the challenge was created to help people break unhealthy eating habits. It says,
Psychologists have discovered that it takes 21 days to make or break a habit. We applied this principal to helping people live a healthier, more energetic and productive life and created the 22Days Challenge. Our goal is to help everyone get to the 22nd Day- and achieve a major breakthrough. At 22Days, we are committed to providing the nutrition and the tools to help make a positive and healthy difference everyday- replacing hunger with a healthy habit.
I only did this challenge for two weeks, but despite the fact that I didn't do the full 22 days, I felt a definite change in my energy and saw a change in my skin. I also lost weight, but that wasn't the goal of doing this challenge, nor was I doing it just for that. I was comfortable with my weight and the way my body looked before doing this, but I didn't eat as healthy as I could have. The reality is that when you go from frequently eating bodega sandwiches to eating vegan, you're going to drop some weight. More on this later.
When you first make your profile on the 22 Days site, the website gives you a quick questionnaire that asks things like what food allergies you have, how much time you have to cook each meal, your likes and dislikes, etc. They give you three options for each meal of each day. You select which meals you want to make, and the site automatically adds the ingredients you need onto a list that you can check off as you buy each item. The system cross-checks every recipe you choose, so there are no repeats of ingredients on your list. This is essentially all of what your $14 per month is paying for: the catalog of recipes and automated grocery lists.
Courtesy of Kelli Boyle/22 Days Nutrition
Courtesy of Kelli Boyle/22 Days Nutrition
At first, this service didn't seem like it was worth paying a monthly fee for, but as I further progressed into it, I began to appreciate how simple it made the entire process of making a meal plan and gathering the necessary ingredients. Basically, you're paying a website to do the most annoying part of being on a meal plan for you: the planning. It made committing to this huge change in what I ate much less daunting because you essentially have an electronic assistant.
The first vegan meal I made (which ended up being my favorite breakfast) was a matcha smoothie. (Note: I did all of my grocery shopping over these two weeks at Trader Joe's.) All it requires is two bananas, hemp seeds, spinach, matcha powder, and unsweetened soy, nut, or rice milk (I chose soy). Matcha is powdered green tea leaves, so it has natural caffeine and became my coffee replacement. It only takes five minutes to make and it's naturally sweet thanks to the bananas, so this smoothie became my go-to breakfast just about every morning over the two weeks. The meal planner provides you with a new set of recipes for every meal for every day, but I chose to repeat lots of the meals so I wouldn't have to buy as many groceries.
It takes less than 10 minutes to put together, and you can either toast the bread ahead of time or use a panini press (yes, I am that extra and own one) to make the sandwich just a little more ~fancy~. I work early mornings and leave the house around 1 or 2 p.m. each day, and don't get home until 7 or 8 p.m., so I typically skip lunch and just grab an early dinner while I'm out. But Beyoncé committed to this meal plan, so I had to carve out time for lunch.
This sandwich was perfect because of the little time it takes to prepare. It includes cucumber, red pepper, arugula, sprouts, roasted red pepper hummus, dijon mustard, and whole-grain bread. (It's worth noting that I'm not allergic to gluten, so I wasn't worried about being gluten-free on this diet, but the service does have gluten-free options.) The recipe calls for a bowl of strawberries and pumpkin seeds as a side. I ended up rotating the matcha smoothie and a bowl of strawberries and pumpkin seeds for my breakfasts throughout the two weeks, and pumpkin seeds became my favorite thing to snack on during work hours.
My favorite dinner that I made multiple times throughout the two weeks was the Penne Arrabiata. (Literally none of my friends or family were surprised that my favorite meal during this experience was pasta. Like Beyoncé, I am nothing if not consistently on-brand.) The dish includes zucchini, onion, garlic, crushed tomatoes, fresh basil, whole grain or gluten-free pasta, and various seasonings such as red pepper flakes and nutritional yeast (it tastes better than it sounds). Making the sauce is one of the easiest things ever, as it only requires mixing the sautéed zucchini and onions with the crushed tomatoes and spices. And it only takes 15 minutes to make from prep to table. The nutritional yeast serves as a parmesan cheese replacement, and while it tastes nothing like the cheese I love and cherish, it's delicious in its own right.
In case you haven't noticed by now, I like my meals to be tasty and quick to make. That's the best part about this meal planner: It gives you a catalog of recipes that are packed with flavor and teaches you how simple it can be to make delicious food on a plant-based diet.
Did going vegan change anything?
To put it bluntly, yes, it did for me, at least. After just two days of eating a plant-based diet, I felt a change in my energy. The best way I can describe it is by saying I felt more fuel-efficient. I was still getting hungry at the same times I was before, but my energy lasted much longer and I didn't feel a significant drop during the late afternoons like I used to. And I didn't go through any caffeine withdrawal because I was still getting that caffeine through the matcha smoothies (and when I didn't have that smoothie in the morning, I would drink black coffee).
The first couple of days going vegan were an adjustment for sure, because 1) I wasn't used to cooking multiple times throughout the day, and 2) I definitely craved Chipotle more than once. But once you get through the first week, you start to actually crave those plant-based foods. The meals leave you satisfied without feeling that uncomfortably full feeling.
But I started this to improve my skin, so did it work? Yes. As much as I hate to admit, cutting dairy and added sugar out of my diet did wonders for my skin. My face felt more taut and looked brighter, and the redness in my acne went down, as did the number of cysts. This is mostly due to my acne medication (oral pill, medicated face wash, and topical creams), but the cysts were noticeably less aggravated (aka big and red) when I was eating this plant-based diet. As for the rest of my body, by the end of the two weeks, I had lost 10 pounds. I couldn't believe the number when I stepped on the scale. If you're going to take on this meal planning challenge but aren't interested in losing weight, that is something to take into consideration when choosing your meals.
Again, I wasn't looking to drastically lose weight by doing this vegan challenge. I wanted to fuel my body in a healthier way and see what affects it had on my skin, and it turned out to be the easiest to sustain and most effective change in eating habits I've ever tried.
Suffice it to say that Beyoncé, as always, was right.