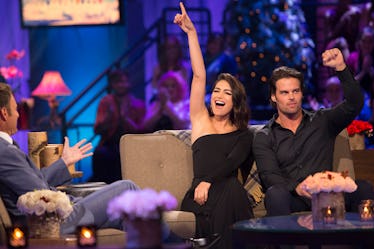 The Reason Ashley I. & Kevin Broke Up After 'Winter Games' Will Break Your Heart
ABC/Paul Hebert
Even though February's Bachelor Winter Games only filmed for under two weeks, the sporty Bachelor spinoff seemed to make some promising love connections. The sappy-yet-uplifting icing on the series' cake was Benoit and Clare's surprise engagement. Lesley and Dean decided to move in together. Courtney and Lily are now living blissfully in La La Land. Unfortunately, there's one couple who seemed to be going strong, but just called it quits. Why did Ashley I. & Kevin break up after Bachelor Winter Games? The fan fave franchise alum and her Canadian ex-beau are weighing in on why they decided to split.
Ashley has been through a lot in the Bachelor-verse. The frequent crier first stepped on the scene on Chris Soules' season and went on to Paradise for more adventures in heartbreak. Winter Games proved to be a happy ending for the witty podcast personality. She made her way to "Seventh Kevin" (there's the wit we're so fond of) when she struck up a cozy relationship with the cute fireman from Bachelor Canada. Not only did they hit it off and eventually head to the Fantasy Suite (Ashley tweeted this involved "pizza, wine, talking, and making out"), they also won the whole dang show! We must say, we were rooting for the adorable #Kashley, even if we just made that nickname up five seconds ago.
If you follow either Ashley or Kevin on social media, you've probably noticed sweet pics of the loved-up pair spending time together over the past few weeks. They celebrated Ashley's birthday, went to Disney Land, and attended a hockey game, among other nice couple activities. Last week, Kevin expressed his feelings for Ashley in a post for her birthday. "She has so many incredible qualities I'm learning about each day. There is a reason she has so many friends and people around her that love her. She's the most driven, motivating, and supportive person I know. She motivates me to be more," he gushed.
All their adorableness makes it harder to swallow the fact that Ash and Kev are no longer together. Ashley is known for keeping it real on her podcast, so she wasn't shy about revealing why she chose to end their relationship.
"For us, it was just a lack of connection. I think mental chemistry," she admitted on The Ben and Ashley I. Almost Famous Podcast Wednesday, explaining that she knew he wasn't necessarily her "forever." Ashley elaborated:
It sounds a little harsh, but it's just that lack of — there's magic. We get along very well, it's just there's a little something missing and you can't really pinpoint what it is. That's just how I feel.
And it sounds like Kevin gets it. "I feel like that's normal and I feel like you get those connections all the time where if you take away our outside world and just put Ashley and me on an island together, we'd probably get along really well. And that's what Vermont was," he said of their relationship's trajectory.
Ashley added that they are still "totally friends" and she had nothing but kind words for him. "The way that he cares about me, and I'm sure that whoever he's with... He cherishes me... It's what every girl wants," she said. Aww.
Ashley and Kevin appear to be at a point in their lives where they're no longer looking for flings or short-lived romances with the wrong people, even if that wrong person is perfect on paper. Kevin has voiced that he's ready for that next chapter and is hoping to settle down. We're glad these two lovable Bachelor contestants are approaching their breakup with maturity. Will we see them in Paradise? Bachelor Nation can only dream right now.