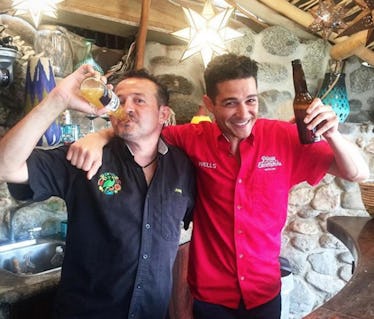 Bachelor Nation Is Going To Get Some "Surprises Behind The Bar" For 'Paradise' Season 5
Instagram/@wellsadams
Winter, we're ready to quit you for now. In between the snowstorms, the wind chill, and the dreary grey days, it's time for a little fun and the sun, am I right? And nothing says summer like Bachelor in Paradise. The steamy Bachelor spinoff is a staple of the season, and although The Bachelorette airs before it premieres, Bach Nation is already pumped to see who will be living and loving it up in Mexico. But many questions about the upcoming installment remain. For one, who will bartend in Bachelor in Paradise this year? We love Wells and Jorge will all our reality TV-watching hearts, but we don't know if they'll be slinging shots in Playa Escondida come summertime.
Fan fave Wells Adams, from JoJo's season of The Bachelorette, proved to be a fantastic replacement for Jorge the Bartender in Season 4. The witty radio DJ offered up colorful and comical commentary (often joined by a puppet) and even stirred up the romantic intrigue when he famously surprise-kissed pal Danielle Maltby upon her departure. But will Wells come back for more margaritas and amateur puppetry? The guy is no longer single — he's currently dating Modern Family actress Sarah Hyland — so he may have outgrown that Paradise life. I guess we can deal with that if he doesn't return, because it sounds like the show is going to have some fun with the whole bartender thing in Season 5.
"I think you're going to see some surprised behind the bar, let's just say that," Robert Mills, ABC's senior vice president of alternative programming, revealed to E! News.
You don't say? Perhaps the series will switch things up and play with a rotating roster of drink-makers each week? Or maybe, we'll just get a very unexpected face behind the bar from the show's past. One new element to the show we are sure to see are international contestants. If you watched Winter Games and ate it up like I did, you're aware of how introducing members of the cast from outside the U.S. totally worked.
"There were a lot of learnings from Winter Games, where it wasn't a show where you were bringing in people every week," Mills added "There will certainly be the hallmarks of Bachelor in Paradise, but I think we will definitely take into account the stuff from Winter Games, where it definitely seemed to form some really strong couples and at the end of the day that's the goal."
Please say Yuki from Japan will be there. Personally, we would like to personally put her in the running for bartender right now.
Another good addition could be voice of reason, Ben Higgins. While he wasn't ready for love in Vermont, he has taken on somewhat of a leadership role among the Bachelor alums — he's almost like the modern male face of the franchise.
As for the cast, Mills noted that "some people from the past" could be joining this season, so anything goes. Will we being seeing Nick Viall again? It would not be shocking to see the regular back in the mix. Roberto Martinez' name is also being tossed around. Winter Games lovebirds Ashley Iaconetti and Canadian Kevin Wendt just called it quits, so their participation could be interesting.
When it comes to contestants from Arie's recent season, we're thinking now-besties Bekah and Kendall are shoo-ins. "They just started reaching out to people. We'll probably be on it. We're excited because who knows who's going to be coming from Becca's season," Bekah told Vulture of the possibility.
Krystal, who earned "villain" status on Season 22, also has potential for a Paradise debut. "I'm totally a beach girl, so it could be a good fit," the fitness coach revealed to E! News last month.
No matter who competes for roses under the Mexico sun this summer, here's hoping Jorge, Wells (and Bach super fan Sarah Hyland if we're lucky) at least make some sort of cameo for nostalgia's sake.