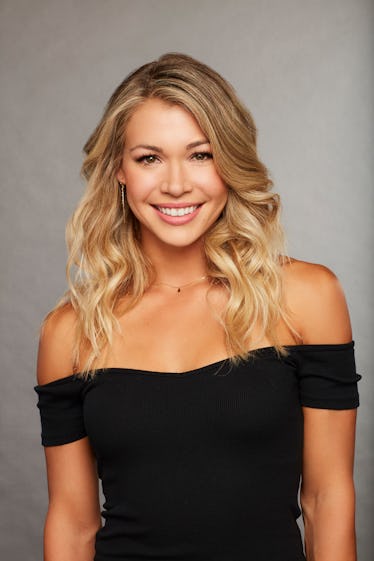 'Bachelor' Arie Gets Real About The Drama With Krystal & Why He Sent Her Home
ABC/Craig Sjodin
Krystal's elimination on last week's Bachelor wasn't exactly a shocker, though there were times we didn't feel like it was a sure thing either. The controversial contestant hit it off with Arie right off the bat, and despite her argument-inducing bowling alley meltdown in the previous episode, he continued to keep her around. Then, this Monday, the moment of truth arrived: the crucial two-on-one. Following a tense date alongside her vocal opponent Kendall, Arie finally let Krystal go. So, why did Arie send Krystal home then? Relationships are built on trust, people. And apparently she had broken theirs.
Arie detailed the date experience in his recent blog for People. The leading man revealed he just couldn't get past the behavior she had exhibited in Florida, saying,
When it comes down to it, I just knew I'd never be able to really trust Krystal again. There were too many red flags at this point and, though I tried, I could not get over her meltdown in Fort Lauderdale. I wanted to give myself a chance to get over that incident and see if we could recover, but none of her apologies were able to repair what was broken. Though I once had very strong feelings for her, those feelings were now gone.
He also added, "I was here to find a wife, not a drama queen."
Dang. You can't really argue with that. Krystal was at the center of the drama in the house, and that drama inevitably seeped into her relationship with Arie. Her bowling breakdown clearly forced him to see her in a new light (she jokingly called it their "first fight," he did not seem impressed), even though they had made a pretty solid connection from the start. She even went to his hometown and met his parents, for crying out loud. We can almost understand why that level of emotional intimacy would allow her a pass. We see why he would defend that decision.
"If I see that same side I saw of Krystal in Fort Lauderdale, it will make this decision really easy. This is her last chance," Arie warned prior to their two-on-one. And that side he saw, indeed.
Krystal went ahead and pulled a total no-no in Bachelorland. She talked about her competition negatively behind their back, telling Arie that Kendall wasn't in a position to get married or potentially even open to falling in love. Um, that rarely goes over well. And according to Arie's blog, Kendall's ability to handle the whole Krystal sitch earned her major points in his eyes, even if it was after the fact...
"Watching it all back, I didn't realize just how contentious things were with Kendall and Krystal. I am so impressed with Kendall's ability to stick up for herself and for me and for all the other women on the show," Arie wrote in his blog.
Krystal may have believed that there was no one on her level vying for Arie's heart, but it appears that fateful two-on-one was the right time to say goodbye. They'll always have Paris, we suppose?
Next week, the ladies leave the City of Love for love Italian style. Just like the song says: "When the moon hits your eye like a big pizza pie — that's Arie!" OK, close enough. Hometowns are on horizon and the final contestants know the pressure is ON. "I know Arie's different," we hear Lauren remarking in the promo. "So, I need to put myself out there and take the risk." It also looks like more than half the women are crying, and there's a horror movie-esque reaction shot of Bekah and Tia. Hmm. Just because Krystal's gone does not mean the drama is over.