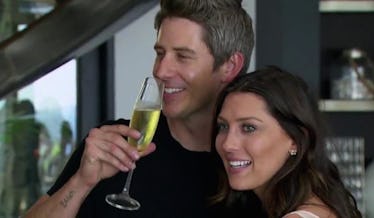 'Bachelor' Fans Think Arie Picked Becca For This Reason & TBH, It Makes Sense
ABC
Season 22 of The Bachelor has officially ended, and what Chris Harrison said at the beginning of the season finale on Monday, March 5 was right: It was going to be the most dramatic ending ever. Lauren Burnham was completely blindsided when Arie chose Becca Kufrin over her. Some Lauren fans are wondering: Why did Arie pick Becca? His family probably had a lot to do with it. The beginning of the episode featured Becca Kufrin and Lauren Burnham meeting Luyendyk's family in Peru. Lauren had the first date with the family, then Becca met them after.
Lauren was kind of quiet throughout the meeting with his family (like she has been all season) and Becca was noticeably more sure of herself and willing to share her feelings about Arie. There's nothing wrong with the fact that Lauren is shy, mind you, but Arie kept on saying in private moments with his family that he was afraid of having to spend the rest of his life boosting her confidence. His family liked Lauren, though. So much, in fact, that they made things hella awkward for Becca when they met her later.
Arie's family literally wouldn't stop bringing up Lauren when they were getting to know Becca, and it was so awkward. Fans weren't into it.
But a strange twist happened: When Arie asked his family who they felt was better for him, they chose Becca. Despite the fact that they spent basically all of their time Becca asking her how she feels about Lauren (because that's relevant...), they chose her. It was confusing, to say the least.
Lauren fans were pissed that Arie's family spent seemingly all of their time with Becca talking about Lauren.
Becca fans were torn between wanting to be happy the family chose her, and being confused/annoyed by the way they treated her when they met.
It seems clear Arie's family's opinion of Becca probably swayed him to choose her over Lauren. It makes sense, honestly. For a lot of people, our family's opinions on our significant others can hold a lot of weight on how we feel about them. So when Arie, who had extensively established how conflicted he was when it came to choosing between Becca and Lauren, asked his family who they thought he should choose and they said Becca, he was just like, "OK, great. Becca it is! Thanks for making my decision for me! I'm truly horrible at this! Why did they choose me for this show!"
This episode has been a lot, guys. Chris Harrison kept on strongly implying there was going to be a huge plot twist at the end, and he brought out women from earlier in the season to talk about the ending before it happened. Bekah M. was one of the women who appeared on the finale to talk to Harrison about the apparent plot twist at the end. Her, along with Caroline and the other women who made appearances, all basically said Arie was the worst guy ever if the rumors they had heard were true.
While it was initially super confusing to sit through, because we still didn't know what went down, it seems clear it's going to be something really similar to Jason Mesnick's season finale. I mean, why else would he make an appearance at the beginning of tonight's finale to give Arie advice if he wasn't there to give advice about his unique experiences? Shady stuff, ABC. Shady stuff.
It turns out, Arie did pull a full Jason Mesnick and ended up dumping Becca in a televised, brutal breakup because he was still in love with his runner-up. We'll have to see what else goes down on Tuesday night's After The Final Rose Ceremony on ABC at 8 p.m.