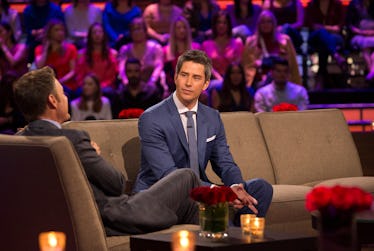 This Bachelor Also Picked His Runner-Up & He's Here To Give Arie Advice
ABC
When the details of The Bachelor Season 22 finale twist were exposed before the March 5 episode began, loyal franchise fans were quick to compare Arie's controversial decision of picking his runner-up over his initial pick to that of Season 13 Bachelor Jason Mesnick. Although he's faded comfortably into Bachelor obscurity with his runner-up/current wife Molly Malaney, Jason's surprise appearance in the finale's opening preview confused some newer franchise fans. So, who is Jason Mesnick?
Then a single dad from Ohio, the account executive first entered the Bachelor franchise in 2008 when he joined Season 4 of The Bachelorette. Competing for the heart of DeAnna Pappas, Jason ultimately came in second place, but finishing so close to the end and having such a likable backstory basically guaranteed him the Bachelor gig. He also became the first Bachelorette contestant to score the lead position, solidifying the cyclic tradition that's as natural as PB & J for us today.
As the Season 13 Bachelor in 2009, Jason came across as someone extremely devoted to finding a maternal figure for his young son. By the end of the show, his final picks had narrowed down to department store buyer Molly and sales rep Melissa Rycroft. Jason was so torn over the Final Rose decision that he inspired what would have easily become a meme if such a thing existed in 2009.
Choosing to reject Molly at the proposal stage, Jason's emotions spun a little out of control. After saying goodbye to her, he proceeded to sob dramatically on a hotel balcony. Quite frankly, no succeeding Bachelor's tears have quite lived up to these.
Only 6 weeks after his proposal to Melissa, Jason's "After the Final Rose" special felt more similar to a funeral than the upbeat, interactive spectacle it is today. Meeting with Chris Harrison without an interjecting audience present, Jason revealed that his relationship with Melissa had changed post-show. He couldn't stop thinking about Molly, which led to a live, televised breakup with Melissa only moments before Molly met him for the first time since their own split.
During "After the Final Rose," Molly agreed to date Jason, but even without today's social media landscape, the news made national headlines. While Jason's choice was scandalous at the time, things soon died down for all involved parties. Jason and Molly eventually got engaged, marrying in 2010 and having a child in 2013. Since being on The Bachelor, Melissa has also gotten married and had children.
Bachelor producers may roll out Jason and Molly for franchise weddings, but Bachelor Sean Lowe is really the only male lead constantly praised for marrying someone from the show. This is understandable, seeing as first picks are clearly the only ones that truly count to ABC. There are plenty of other current franchise couples who met via original spinoff Bachelor Pad that the show never mentions today. Relationships formed between a lead and his or her Final Rose winner are obviously most valuable to showrunners.
While a visit from Sean and his wife Catherine is a mainstay for new Bachelors, Jason rarely appears on the show, hence Twitter's freakout when he popped up in the finale's teaser footage. The Mesnick cameo only confirmed the internet's speculation about what Arie put Becca K. and Lauren B. through.
Jason's first appearance in the finale occurred during a live chat segment with Chris Harrison and other former Bachelor Ben Higgins. Trying to dance around the elephant in the room, the three men and the audience just laughed awkwardly when Jason was introduced. If anyone managed to make it to this point spoiler-free, any hopes of remaining that way went out the window at the sight of him.
As the show surprised us with an overload of unedited footage of Arie dumping Becca, it looks like we'll have to wait until "After the Final Rose" tomorrow night to know the specific details of Arie's talk with Jason. Here's hoping their conversation is a lot less painful than watching an hour of Arie completely shattering Becca's heart.