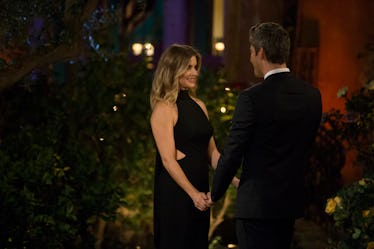 'Bachelor' Arie Defends His First Impression Rose Pick: "It's More About A Feeling"
ABC/Paul Hebert
Arie Luyendyk Jr. is the Bachelor and he can give out his roses as he pleases, thank you very much. #BachelorNation should probably get used to sitting back and letting him do his thing considering he's unapologetically living with his decisions, even if fans don't approve. On the premiere of Season 22, the leading man went ahead and gave the coveted first impression rose to a contestant who's already suspected as being the season's villain. So, why did Arie give Chelsea the first impression rose? Turns out, he appreciated her willingness to break the ice right off the bat.
"That first night was really nerve-wracking, and for me, I didn't really know who was there for me," Arie told E! News. "So for her to take that initiative and to see me twice and to really make it known that she was interested, really sort of gave me confidence and really showed me that she was there for me."
Fair enough.
"In that moment, there's so much more than what's, I think, shown on camera, so you know, it's more about a feeling," he added. "Yeah, looking back on it, I think she was a little bit controversial, but you'll see a different side of her.
We're looking forward to seeing that side. Chelsea is a single mom and real estate executive assistant from Portland, Maine. The Olivia Caridi-lookalike didn't exactly put her best foot forward on the first night as far as the other ladies were concerned. She was clearly portrayed as the aggressive go-getter of the evening. The 29-year-old kicked things off by handing Arie a drink and making it her mission to get as much time with him as she possibly could, even if that included stealing him away from other convos. Those moves resulted in a sultry smooch and a first impression rose from Arie. It probably wasn't the best idea to go and brag to the other contestants about the time she spent with him. Come on, did she think her anecdote would be met with, "we're so happy for you!" and "tell me more about that!"
"At the end of the day I'm not a rude person but I want to get to know him quickly so that I can proceed with the rest of my life, possibly with him," Chelsea confessed on the first episode.
"Chelsea's very good at leaving me wanting more," Arie remarked.
As you might know by now, forwardness can be both a strength and weakness in this tricky game (shout out to Corinne!) and the attitude can go either way. Apparently, Chelsea's strategy worked from Arie's initial vantage point, which makes a lot of sense if you look at it from his perspective.
"You have made me feel so confident and I'm glad you came and got me for a second time," Arie told Chelsea while giving her the rose.
It seems like Chelsea's going to have to continue to justify her actions as the season progresses. "I'm making bold moves because being a single mother I deserve more time with Arie," she asserts in the extended trailer for the season. "I'm not a b*tch, like, that's the thing. I'm a mother. And I have to tell you guys straight up I'm pulling aside Arie first," she later tells the other women in a clip. Unfortunately, statements like that don't usually go over too well in Bachelor land.
"For me, I try to cast aside and really give this person in front of me the benefit of a doubt because it is a difficult experience. It's not an experience everyone handles the same. And just because they're popular in the house doesn't really make them a good life partner," Arie has explained to reporters.
It seems as though when it comes to Arie's choices, what happens between the women in the mansion stays in the mansion and the drama likely won't affect how he moves forward. We'll have to stay tuned to see if America agrees with him as time goes on.