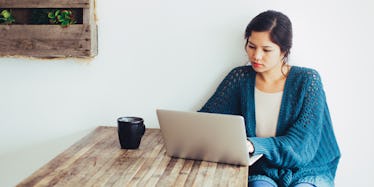 If You're Having Trouble Concentrating, Take A Step Back & Try These 5 Workouts To Help You Focus
It always seems like it's the days when your to-do list is miles long that you just can't freaking focus for more than two minutes at a time, no matter how hard you try. I don't know about you, but as soon as I sit down to tackle an important assignment, my brain decides to get lit AF and throw an impromptu salsa party instead of helping me actually be productive. Thanks brain, you the real MVP. But seriously, why can't I concentrate? This is getting really old, really fast.
Of course, we can't help the world we live in, and that world is inevitably sort of distracting these days. Psychology Today reports that social media and modern technology are the main culprits of our fish-like attention spans. Shocker, right?
But just because modern society is prone to becoming distracted AF, that doesn't mean we all have to be destined for failure when it comes to cracking down and zoning in. According to research from Harvard Health, regular exercise can help sharpen your thinking skills and make you more easily able to concentrate on getting sh*t done when you need to.
So the next time you feel like your brain is just not cooperating with you, try these five workouts to help you maintain laser-like focus.
Oh, and turn your phone on airplane mode. Stalking your ex's aunt's Instagram page really isn't helping the situation, and honestly, just, what are you doing there?